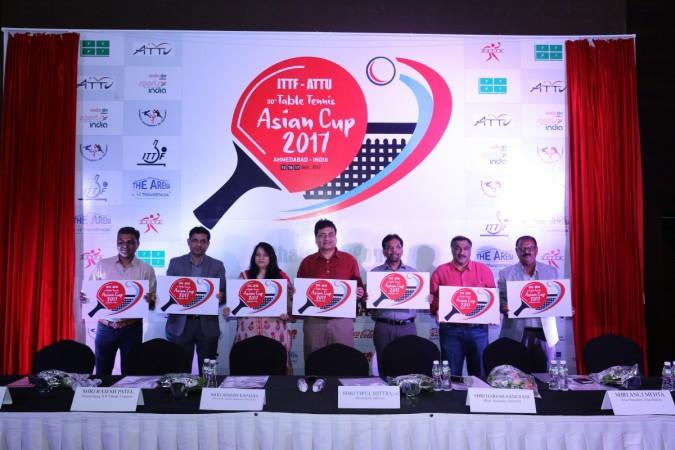 Top players in the continent are set to battle for supremacy in the 30th Table Tennis Asian Cup 2017 at The Arena by TransStadia in Ahmedabad from September 15 to 17.
This is the biggest table tennis tournament to be held in Gujarat and the hosts Gujarat State Table Tennis Association (GSTTA) are ready for the mega event.
On Sunday, September 10, GSTTA president Vipul Mittra launched the logo of the tournament.
Also read: List of players and other information for Asian Cup TT
The $50,000 prize money tournament will be played under the aegis of Table Tennis Federation of India (TTFI) and Asian Table Tennis Union (ATTU).
Top 32 paddlers – both men and women – of Asia will be seen in action. Women's Rio Olympics Team gold medallist Liu Shiwen and former Asian Cup champion and world No. 2 Fan Zhendong will start as favourites in women's and men's category respectively.
"Liu Shiwen and Fan Zhendong have confirmed their participation. Besides we will have Jun Mizutani and Wong Chung Tin showcasing their talent," Mittra said.
Sharath Kamal and Manika Batra will be India's hopes. However, for the locals, Harmeet Desai will be a major attraction. After becoming first Gujarat-based paddler to make it to the top-100 of men's world ranking, he is set for another first.
"Till date no Gujarati has competed in this prestigious Asian Cup. He was part of gold medal winning team at the Commonwealth Table Tennis in Surat 2015. Everyone is eager to see him upsetting top paddlers of the continent," Mittra added.
Mitta thanked TTFI to choosing Gujarat as the host for the prestigious event. "We are thankful to Table Tennis Federation of India for allotting such a prestigious tournament, which will have top players of the continent," he said.
The tournament is supported by Sports Authority of Gujarat while The Arena by TransStadia will be the venue partner.
"Without the support of Gujarat government, a tournament of this magnitude would have not been possible. We are happy to have Udit Sheth's TransStadia as venue partner." he added.
DHS will be official equipment partner. Milind Torawane is the organising committee chairman and Haresh Sangtani is the organising committee secretary.