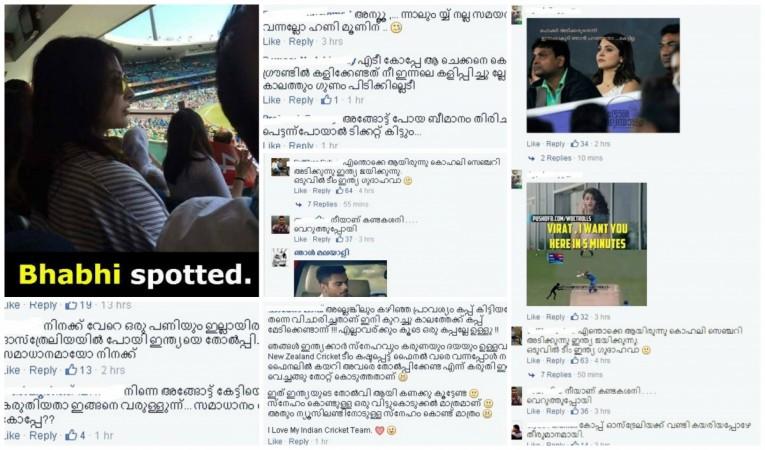 After making Australian cricketer Mitchell Johnson "thank" them for the abusive remarks on Facebook, Malayalis have shifted their focus towards Anushka Sharma, blaming her for boyfriend Virat Kohli's one-run stint during the India-Australia semi-finals on Thursday.
Anushka had arrived in Sydney a couple of days ago to cheer her beau during the semi-final. However, Kohli failing to make significant contribution to India's chase has led the online world to blame his girlfriend.
Meanwhile, the actress had also been strongly criticised last year after Kohli failed to perform in an overseas series in 2014.
Read: 'Sexually Frustrated Mallu': An Antidote to Kerala's Online Abuse
Similarly, on Thursday, Australian cricketer Mitchell Johnson also fell victim to "off-field sledging" by Malayalis, after he vowed to sledge Indian players on the ground during the Sydney semi-final match.
In mid-2014, Tennis player Maria Sharapova had also become a victim after she asked, "Who is Sachin Tendulkar?"
Meanwhile, many Bollywood celebrities including Sushmita Sen have lashed out at the people who posted abusive remarks about the actress.
Sushmita Sen:
So happy 2 C @AnushkaSharma b there 2 support her man n her country!!Those mocking her,pick another sport..IND's spirit n Cricket not 4 U :)"
Tennis player Sania Mirza has also slammed the hateful messges against the actress.
Sania Mirza
Blaming and joking bout Anushka??cz a woman can ONLY be a distraction and not a strength? Wht bout d other times we won or Virat made a 100?
Former India skipper Sourav Ganguly have also come forward to support the "PK" actress.
"What wrong Anushka has done? She had only gone to see a cricket match like the families of other players," Mid Day quoted Ganguly as saying. "...It is the immaturity of people (criticising Anushka)."