Within days after the Geological Survey of India (GSI) discovered a huge quantity of Lithium in the Reasi district, 17 lakh metric tonnes of Lignite and high-quality Marble deposits were found in the border district of Kupwara of Jammu and Kashmir.
Notably, 5.9 million tonnes of Lithium reserves were found for the first time in the country, and that too in the Reasi district of Jammu and Kashmir Union Territory.
Kupwara district has huge potential in the industrial sector and thermal power generation as there are around 17 lakh metric tonnes of major mineral deposits available in different areas of this frontier district.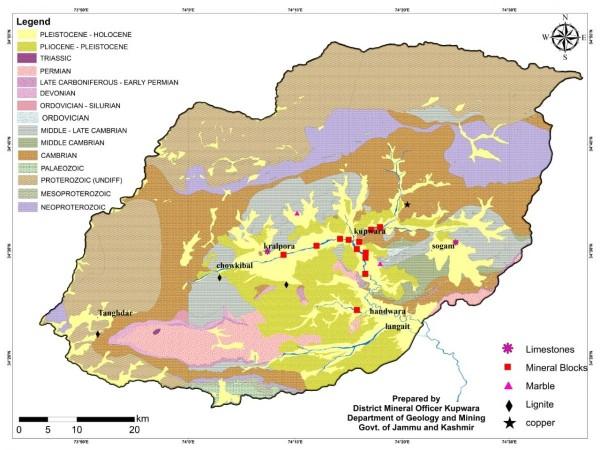 As per data available from Geology and Mining (G&M) department, nine lakh metric tonne Lignite deposits are available at the Nichahama and Hangnikkot areas of the district and have huge potential for thermal power generation. Likewise, at Awoora and Zirhama, there are eight lakh metric tonnes of high-quality Marble deposits which can revive the industrial sector and can provide ample employment opportunities in the district.
This information was given by District Mineral Officer (DMO) Kupwara, Dr.Shujat Ahmad Qureshi on Wednesday.
Authorities seized 440 vehicles indulged in illegal mining
He said Geology and Mining department has seized 440 vehicles including heavy earth moving machines used in illegal mining and transportation of raw material from different areas of Kupwara district during the financial year 2022-23, adding that a fine of Rs 60 lakh has been realized from the violators (owners of seized vehicles), besides, seizing raw material worth Rs 20 lakhs.
The DMO further said that he along with his team launched a crackdown in different areas of the Kupwara district, following the directions of Deputy Commissioner Kupwara, Dr. Doifode Sagar Dattatray to curb the illegal mining and its transportation.
Dr. Shujat said that all of his staff has been put on alert to monitor illegal mining in the district.
Offenders warned against illegal extraction of minerals from Kupwara.
On the occasion, the DMO warned the offenders to desist from the illegal extraction of minor minerals, adding that stern action under the rules shall be taken against them.
He said the vehicles were seized under Mines & Minerals Act 1957 under section 21 delegated under the J&K Minor Mineral Concession, Storage, Transportation of minerals and prevention of illegal mining rules 2016 issued vide SRO 105 of 2016.
According to DMO, rate fixation of raw materials in the district has already been accorded and the sale and purchase of minor minerals are being done online through http://www.geologymining.jk.gov.in, besides, rates have been notified which are available on different portals of Geology and Mining department.
Moreover, DMO added that in case an extra rate is demanded by the mineral concessionary or mineral dealer licensee, people can contact the DMO Kupwara, accordingly, such offenders will be fined under the law.
While giving further details District Mineral officer Kupwara said that there are 24 e-auctioned blocks in the Kupwara district out of them 14 are functional leased-out blocks while the rest 10 are under process.