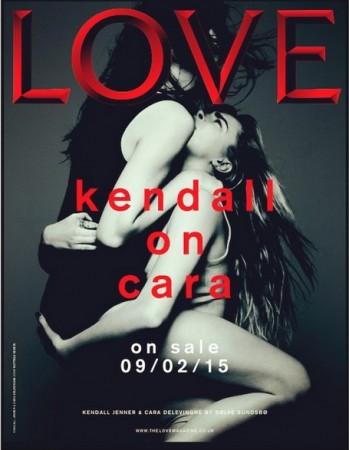 Reality show star Kendall Jenner could be the next one to follow the footsteps of her elder sister Kim Kardashian with sexy photo shoots for magazine cover.
After being the sexy Santa for Love Magazine's 2014 Christmas Video Advent feature, "Keeping Up with the Kardashians" star is seen getting intimate with model Cara Delevingne in the February issue of the publication.
While Kendall is portrayed in sexy lingerie and a Santa hat in Christmas feature, her legs are wrapped around Delevingne in the February issue.
As the 19-year-old television personality is trying hard to climb the ladders to hit the list of high profile celebrities, Kim is reportedly jealous of her sibling's popularity.
"Kim is particularly jealous of Kendall and has it in her head that she's taking a ton of business away from her, so the knives are really out. They've had a lot of tensions recently, but the money-spinning Estee Lauder deal really pushed Kim's buttons and she's jealous as hell," a source told Ok! Magazine.
The 34-year-old seems to be worried about losing the grounds because of her sister's popularity so she decided to do a nude photo shoot for the Paper Magazine. But it did not help the celeb as she lost business with well-known brands.
Though Kendall described Kim's exposed pictures as cheap and nasty and that they are part of the curvy Kardashian's over-sexed antics, she is also seen taking the same path to gain popularity.
However, it remains to be seen whether Kendall will do a nude photo shoot in the near future or not.