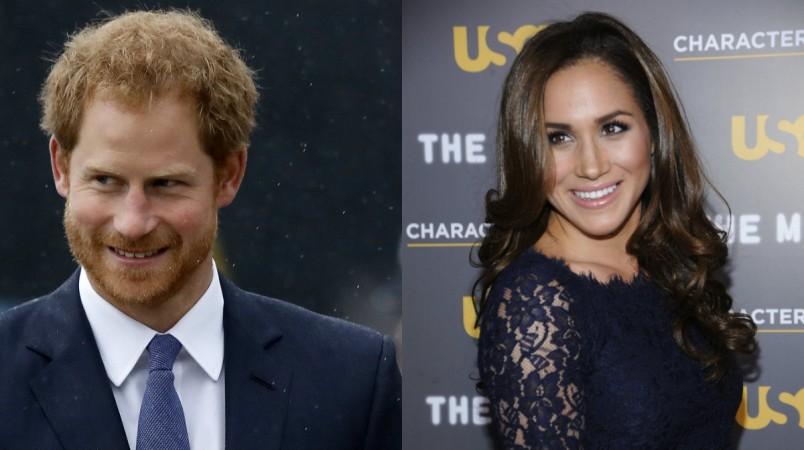 Prince Harry had a gala time with girlfriend Meghan Markle during his trip to a friend's wedding in Jamaica. After attending a close friend's wedding on March 3, Harry was spotted relaxing on the beach with friends.
Also Read: Is this when Prince Harry and Meghan Markle will get engaged?
Harry was captured shirtless, wearing navy blue swim shorts, a black baseball cap and sunglasses. He showed his perfect body while soaking up the sun. While Harry was enjoying on the beach, his girlfriend Meghan was nowhere close to him.
Meghan was in Jamaica for three days with boyfriend Harry to attend his close friend Tom 'Skippy' Inskip's wedding. Harry even showed off his dance moves and knocked over a tray of drink while Moonwalking to Michael Jackson, The Sun reported.
"He was going backwards when he banged into a waitress carrying a tray of drinks and sent them flying. Harry gasped, looked shocked and put his hands on the waitress's shoulders and apologised. Meghan and Harry were kissing each other constantly and danced with each other. Everyone was very drunk," an insider told The Sun.
Meghan and Harry are going strong despite all the breakup rumours. Gossip mills are abuzz that Harry and Meghan want to take a relationship to the next level and tie the knot soon. Speculations were also rife that Harry will propose the Suits actress near their first anniversary.
"I think Harry may propose near the anniversary of their first date. So they'll be engaged by the end of the summer. They have spoken candidly about their future and see a life together. They both want kids and have chatted about how they'd be as parents. It's the real deal for both of them," one insider said.