Actor-turned-politician Urmila Matondkar joined Congress leader Rahul Gandhi's Bharat Jodo Yatra as it resumed from the garrison town of Nagrota on Tuesday morning.
Matondkar, a popular Bollywood star of the 1990s, joined Rahul Gandhi shortly after the march started from the Nagrota area amid unprecedented security, with Congress workers and supporters lined up on the road along the route to welcome them.
"Urmila Matondkar joins the Bharat Jodo Yatra. Those who love the country and joining the Yatra to unite the country", Congress Party tweeted in Hindi. Ever since the party's march started in September, many prominent faces - outside of the Congress - have been a part of the foot march of Rahul Gandhi.

Actors, including Pooja Bhatt, former RBI governor Raghuram Rajan and veteran army officers have walked alongside Rahul Gandhi. In Delhi, Kamal Haasan joined the Yatra last month.
Urmila Matondar also posted a video on social media that showed her walking with Gandhi. "Walk for Unity, Affinity, Equality, and Fraternity", she tweeted.
Before the march, she posted a video message, where she can be heard saying: "In this winter chill, I am addressing you from Jammu. In a short while from now, I will be joining the Yatra. Indian unity is the spirit that has been carried along during this Yatra. All of us have created this India and we have to help it grow. For me, this Yatra is more for society than politics. The world is functional with love, not hate," she can be heard saying in the video clip she shared from her Twitter handle.
Had resigned from Congress to join Shiv Sena in 2020
Matondkar (48) had resigned from the Congress after the 2019 Lok Sabha elections and joined the Shiv Sena in 2020.
"Shiv Sena's women's wing is very strong and I'm happy to be a part of it," Urmila Matondkar had told the media. "I am proud to be a part of Mumbai and work on women's and children's issues" she added.
Urmila Matondkar had earlier joined the Congress in March 2019 in presence of Rahul Gandhi. She had unsuccessfully contested the national election from the Mumbai North constituency.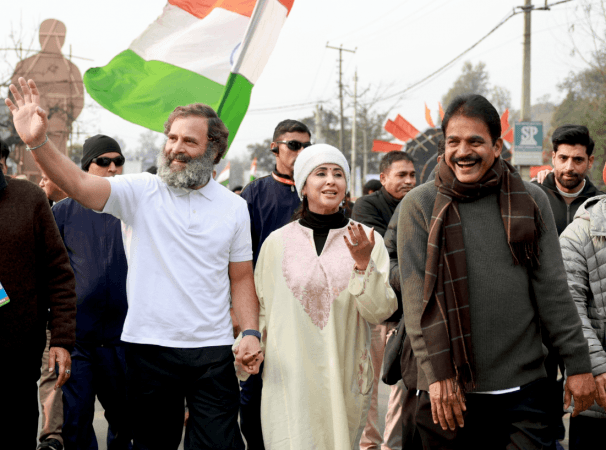 The actor has been vocal on social media about the Citizenship Amendment Act and other issues.
She had also taken on actor Kangana Ranaut for comparing Mumbai with Pakistan-occupied Jammu Kashmir (PoJK) and the nepotism issue.
Dressed in a cream-colored traditional Kashmir Pheran (loose gown) and a beanie cap, Matondkar was interacting with Gandhi as they marched along.
Noted author Perumal Murugan and J&K Pradesh Congress committee president Vikar Rasool Wani, his predecessor GA Mir and former minister Tariq Hamid Karra also joined them alongside hundreds of others carrying the Tricolour in their hands.
The yatra, which started from Kanyakumari on September 7, entered Jammu and Kashmir from Punjab on Thursday and reached Jammu city on Monday.
The march is scheduled to make two night halts at Ramban and Banihal along the Jammu-Srinagar National Highway before its culmination in Srinagar with a grand rally at the Sher-e-Kashmir Cricket Stadium on January 30.