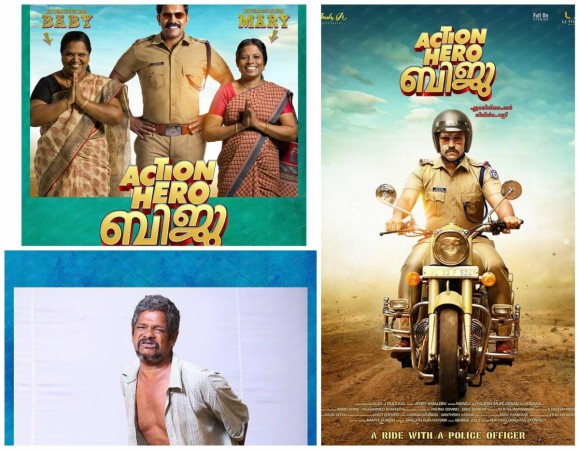 Abrid Shine's latest Malayalam movie "Action Hero Biju", starring Nivin Pauly, has been receiving positive response from movie-goers and critics for portraying the true state of police officers in Kerala.
Recently, "Action Hero Biju" was screened at Kairali theatre in Cherthala for school cadets and police officers, who lauded Nivin and Abrid for showing their real life on the big screen in a natural way.
The makers have released a video of the special show, which was also attended by the supporting actors of the movie. It has to be noted that the realistic entertainer has paved the way for many artistes, who have been in the industry for many years as juniors, to portray significant characters in the movie for the first time. Artistes Baby and Mary acted in just a single scene with Nivin, but the audience will never forget them for their natural performance. This is also the case of Suresh Thampanoor, a loading worker, who has also become an overnight sensation after the "Muthe Ponne Pinangalle" song went viral on social media.
"I have been in films for four years. I always wanted to say some dialogues in a movie, but I never got a chance. Finally, we were given an opportunity to do a notable character with dialogues. Nivin was very supportive and that's the reason why we could deliver the dialogues well. Now, we find it difficult to travel in a bus as people started recognising and asking to take photographs with us. But we are totally happy now," Mary is heard saying in the video shared on the Facebook page of "Action Hero Biju."
"This is the first time I got a chance to do a good a notable role in a film even though I am a part of the industry for the past eight years. We could perform well only due to the support of Nivin and Abrid sir," said actress Baby.
The special show was also attended by Jayashree Sivadhas, Shine C George, Prince Karuthedan, Baiju Pallithodu and Chinimma George, who also shared their experience of working with Nivn and Abrid in the cop movie.
Watch the video here: