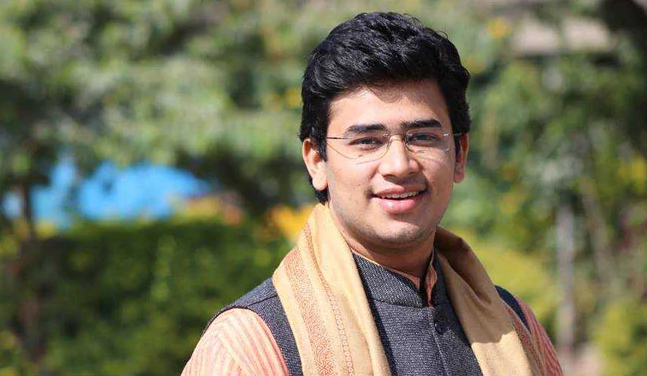 After a severe allegation of physical abuse came into light against the Bharatiya Janata Party (BJP) candidate Tejasvi Surya from Bengaluru south constituency, the accused woman deletes her tweet and Twitter account.
Recently, in a series of tweets, a woman had revealed her bad experiences with the 28-year-old BJP candidate. Dr Som Dutta alleged that she had suffered because of him for five years and that the party should conduct a background check on their candidate before giving him the party ticket.
"Do you actually want a womaniser, abuser and woman beater to lead us? Need proof? I will share. Not every Hindu is Dharmic and great speeches don't make a great man", reads one of her tweets.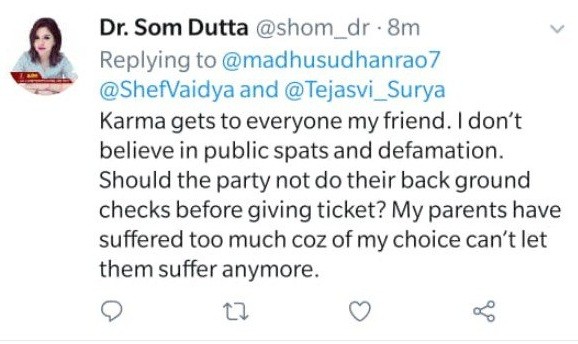 However, the tweets posted by Dutta has been deleted and her Twitter account has been inaccessible since. The tweets were deleted by her after the posts went viral on the internet.
The Congress party had shared her tweets from their official Twitter handle, asking if Tejasvi was another MJ Abar in the making.
The plot twist
The whole event took a different turn when she tweeted asking the people not to drag the issue further as they both were from good families and a lot of people will get hurt because of this.
"We have moved on, I have deleted my tweets on my own as I realised that it not worth it", was her last tweet. After this post, her account was inaccessible to the public.
The BJP candidate also spoke about the rising issue. He said that "Dr Som Dutta is a close friend of mine. She herself deleted the tweets that were against me. Further, she has also requested everybody not to continue this any further. As a gentleman, it is my utmost duty to respect her words and I will not continue this any further," Surya said, as reported by Deccan Herald.
Tejasvi Surya was chosen as the Bengaluru South candidate by overstepping Tejasvini Ananth Kumar, wife of former union minister Ananth Kumar Hegde, who was supposed to be the party candidate. Since then he has been in the limelight for severe allegations and accusations.
Several BJP leaders had shown their disapproval towards Tejasvi's candidature and had asked for an explanation for this from the party high command. Just after an internal conflict in BJP over his candidature, the tweets surfaced on the internet.