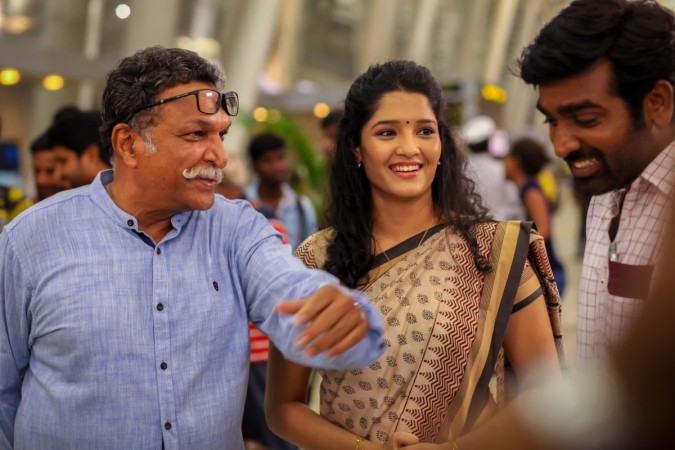 M Manikandan of Kaaka Muttai and Kuttrame Thandanai fame is back with his latest venture, Aandavan Kattalai. He has teamed up for the venture with Vijay Sethupathi, with whom he has worked earlier in a few short films.
Just in - TN Theatrical rights of Vijay's Bairavaa sold for a record price | Movie Stills
Ritika Singh, who was lauded for her performance in Irudhi Suttru, is playing the female lead in the movie, which also stars Pooja Devariya, Nassar, Vela Ramamoorthy, Yogi Babu, Cheenu Mohan, Namo Narayana and others.
Aandavan Kattalai features cinematography by N Shanmuga Sundaram and editing by Anucharan. The music has been composed by K (Krishna Kumar). Of the nine songs, Vazkhai oru ottagam, Elandha pazham, Imsai rani and Yaaro petha pillai have already turned out to be chartbusters.
The film tells the story of the youngsters' approach to get quick passports and visas to fly abroad using short cuts. Debt-ridden Gandhi with his friend Pandi (Yogi Babu) come to Chennai in hopes of flying to a foreign country to find a job and earn money. They knock the doors of a travel agent, who promises them of making arrangement through illegal ways.
While Pandi successfully gets visa to travel London, the hero fails to clear the test even after providing the fake document about his wife. What follows next should be seen on-screen.
Review:
The movie has opened to highly positive reviews from the audience and critics. The viewers are whole-heartedly praising the film for its brilliant narration with loads of fun elements. More importantly, the film conveys a good message without being preachy. Vijay Sethupathi, as always, has done a fantastic job, Yogi Babu comes out with flying colours and Ritika Singh is a treat to watch, say cine goers. Here is the live audience response to the film:
Ajith R Rajesh: #AandavanKattalai -Interval
Asusual #Manikandan Flavour Film. #YogiBabu+ #VJSethupathi+Too many conversations- Slow phase.. Too lively,sema finishing #AandavanKattalai
VJ Abishek: We need films like #AandavanKattalai Approach it wid some maturity, such a harmless entertainer till now @Dir_Manikandan continued 2 inspire
#VijaySethupathi 's reactions when he doesn't hav dialogues r a true treat 2 see! After #Amitabh @ritika_offl is d perfect angry young lady
#YogiBabu is a classic example of how comedy can be worked out when the timing is exemplary! #AandavanKattalai sustains because of him!
@Dir_Manikandan 's understanding f middle road cinema is essential 4 cinema now! Writing, characterizations n d way drama gets imposed, wins
Astounded by @K_Grooveplanet 's understanding of background score! A while new trip of music enhancing every scene! #AandavanKattalai
Kaushik (LMK): #AandavanKattalai 1st half - The humor clicks big time thanks to Yogi Babu, who's the showstealer. Fresh music by @K_Grooveplanet is a plus
#AandavanKattalai 1st half -#VijaySethupathi plays the usual common man again. He has to sort out his passport documentation. New plot idea
#AandavanKattalai 2nd half -Throws valid awareness on avoiding fraud brokers & middlemen while doing government documentation. Feelgood end
#AandavanKattalai 2nd half - #VijaySethupathi rocks in the scenes when he acts mute. As usual, a realistic show from Makkal Selvan. Win
Rajasekar: #AandavanKattalai - superb feel good drama from @dirmmanikandan . Lovely film, don't miss. #AandavanKattalai interval - Loving this film, superbly written comedy drama from @dirmmanikandan
Surendhar MK: Hat trick for @Dir_Manikandan. #AandavanKattalai is a lovely film sans commercial compromises. Totally fresh outing for #VijaySethupathi.
@K_Grooveplanet is the second hero of #AandavanKattalai. Lovely soundtrack. Entertaining first half spearheaded by Yogi Babu. Good so far.
Priyanka: As always Vijaysethupathi comes out with Brilliant performance. BGM is big bonus. #AandavanKattalai
A well written movie with good comedy #AandavanKattalai
Manikandan has a winner in hand. #AandavanKattalai
Entertaining first half. Slow pace is a concern. #AandavanKattalai
Prashanth: #AandavanKattalai interval - Yogi Babu rocks . Fresh and interesting so far.
#AandavanKattalai - Breezy new age entertainer . You will love the chemistry between Rithika and Vijay Sethupathi .
Common Man Sathish: #AandavanKattalai - Most needed message to the society conveyed realistically, beautifully along with good humour #AvoidBrokers
#AandanKattalai First half - Non Stop laughter @ Theater. Yogi Babu absolutely rocks. Dialogues at its best
Mani__Maran: Halfway through #AandavanKattalai . Another good film from director Manikandan, but this time its gonna rule the box office :-D
Ck Mohammed: Loving #AandavanKattalai, so much funny one-liners, #YogiBabu rocks with his presence! Funny situations, awaiting for second half..
#AandavanKatalai - Brilliant making!!
Loving #AandavanKattalai, so much funny one-liners, #YogiBabu rocks with his presence! Funny situations, awaiting for second half..
Shiva: V.good story line & a neat screenplay! #VijaySethupathi asusual the best performer carries the entire movie #Manikandan #AandavanKattalai