The Central government employees may get another salary hike early next year if all goes well. The National Anomaly Committee (NAC) is reportedly convening a meeting this month to discuss on the central government staff's demand to increase the minimum basic pay.
The union government increased the minimum basic salary for central government employees from Rs 7,000 to Rs 18,000 a few months ago as per recommendations of the 7th Central Pay Commission. However, the central government employees were said to be unhappy with the decision, as it was much below their demand of Rs 26,000 for minimum basic pay.
It has now emerged that the NAC will discuss on the minimum basic pay in October and submit the report to the Department of Expenditure for approval before placing it with the Union Cabinet for implementation.
The Central government may increase the fitment factor of 2.57 suggested by the 7th Pay Commission for a minimum basic salary of central government employees to 3 times, which means the minimum basic pay will be increased from Rs 18,000 to Rs 21,000.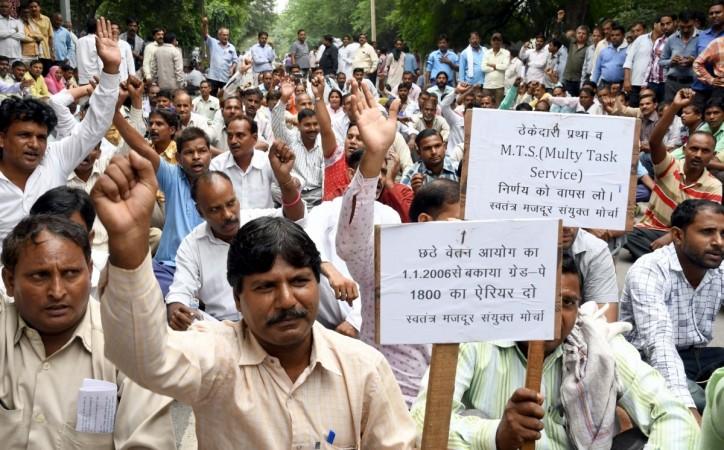 If the purported new suggestion by NAC turns true, the revised minimum basic pay could come into effect early next year (January 2018). The suggested Rs 21,000 may be lesser than the expected Rs 26,000 but the central government staff will benefit from the revised pay.
It may be mentioned that the Union Cabinet had last month approved the release of additional one percent Dearness Allowance (DA) and Dearness Relief (DR) to the central government employees and pensioners. The DA came into effect on October 1.
"The release of the additional instalment of DA represents an increase of 1 percent over the existing rate of 4 percent of the Basic Pay/Pension, to compensate for price rise," the union cabinet said in a statement.
The Siachen allowances for defence personnel have also been increased from Rs 14,000 per month to Rs 30,000 for soldiers and from Rs 21,000 to Rs 42,500 for officers owing to extreme risk and hardships faced by them in the harsh climate. The 7th Central Pay Commission has also revised House Rent Allowance (HRA) of the central government employees.
However, the government has made it clear that the pay hike would come into effect from January 2018 but there will be no arrears.