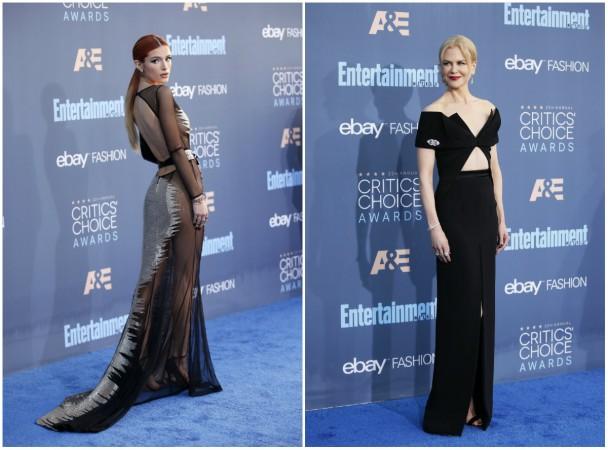 While the prestigious award function, Critics' Choice Awards, saw many recipients take home the award and leaving a memorable mark on the list of winners, there were a few celebrities that drew attention for all the wrong reasons. Bella Thorne and Nicole Kidman sported outfits at the red carpet leaving very less to the imagination and risking a wardrobe malfunction.
Nicole Kidman gave onlookers more than she wished to show as she walked down the blue carpet. The Eyes Wide Shut actress walked in wearing a full-length black gown, featuring a dangerous high split in the front of her skirt. Kidman, who walked the blue carpet with a risk of showing more than she had bargained for, walked in flashing her long legs as she held her dress in places to avoid any kind of malfunction.
The beautiful actress attracted all the attention to her toned stomach and gave a generous preview of her cleavage due to the design of the gown. Kidman decided to pair silver accessories as she wore a pair of bracelets, rings and dangling earrings. Completing the look, she sported red lipstick to up the oomph at the award night.
Another actress that risked a wardrobe malfunction was Bella Thorne. Known for her racy outfits, she was seen sporting a gown that revealed more than required. The 19-year-old actress walked down the blue carpet in a sheer black gown that covered her lady parts in just all the right places. Keeping all the attention to the dress, she walked in with minimal makeup and a sleek ponytail.
The former Disney star flaunted her hot body as she posed in different seductive poses for the cameras and onlookers at the carpet. However, one wrong move would have left her in a disastrous wardrobe malfunction. As she posed previewing the side of her body, the actress's fit butt and a little of her breast were made visible. It was clear that the star walked in without knickers and bra.
Risking nothing to malfunction but to the fashion police, Natalie Portman risked wearing a dress that looked like curtains covering the window pane. The pregnant actress wore a red and black, multi-patterned frock, assuming that she wanted to cover her baby bump. There are better ways to cover (or rather show-off) the bump. Looks like the Jackie actress whipped up something last minute and disappointed the fashion world.