Morris Garages, also known as MG Motor or just MG, recently launched their fourth vehicle in India—the Gloster. The Hector, Hector Plus, and ZS EV are the company's other three vehicles in the country. The Gloster is MG's flagship here and is known as the Maxus D90 in China and the LDV D90 down under. In fact, it would be appropriate to mention here that the LDV D90 got a 5-star rating in the Australian NCAP crash tests. But don't get your checkbook out just yet; there's more to it than meets the wall, er, eye.
2020 MG Gloster Review: Dimensions, design, and presence
This is a BIG vehicle, ladies and gentlemen. How big? It's longer, wider, and taller than the Ford Endeavour, which, by the way, is overall bigger than the Toyota Fortuner. In fact, the Gloster is almost as big as the gargantuan, multi-crore-rupee, Lexus LX 570. Guess what? This MG's wheelbase is an astonishing 2,950 mm—that's 100 mm longer than the LX 570's. I'll give you a minute to process that.
However, the MG has a non-threatening demeanour. Now whether that's a good or a bad thing depends totally on your psyche; I, for one, like it that way because I don't believe in scaring other road users. Of course, they may still be intimidated by the sheer size of this thing, but it's clearly not this MG's intent. Again, the Gloster's presence is second to none, but it doesn't run around throwing expletives continually. So, yes, I like the careful restraint in design. Until I move to the rear, that is.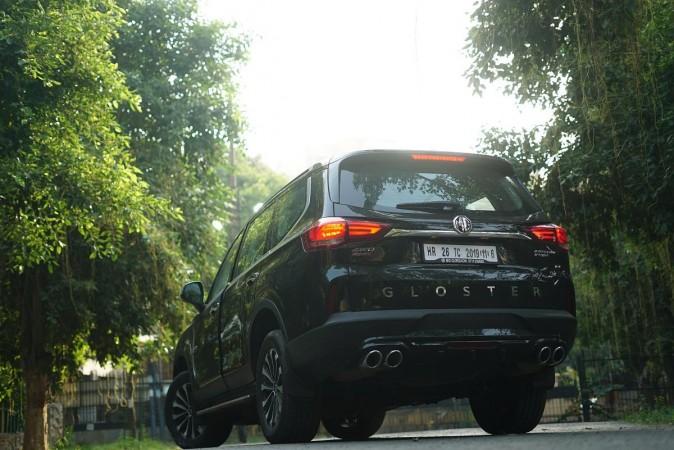 There's nothing wrong with the design per se; it's just that the splattering of badges makes the rear appear gaudy to my eyes. However, you would hear this only from the auto journalists. The majority of potential buyers might just love it, considering their affinity towards affixing additional stickers, badges, flags, emblems, grilles, ovens, etc., on to their vehicles.
2020 MG Gloster Review: Interior
Thankfully, there are no such misses in the interior, and the cabin is decidedly opulent, especially for this segment. There's enough leather in there to compel PETA executives come cartwheeling to your doorstep, and whether it's real leather or leatherette—that's something you'll have to take it up with them. I'll just tell you that it feels and smells great (smells like a BMW actually), and would increase your happiness quotient by leaps and bounds.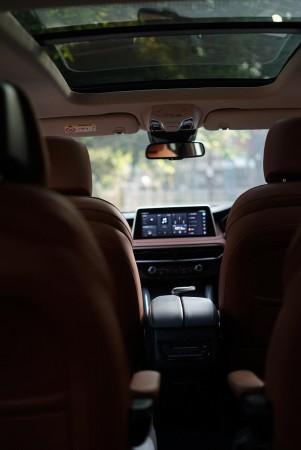 And it's not just increased serotonin levels I'm talking about. When it comes to your physical health as well, the Gloster has your back, and quite literally at that. Its massaging function is so incredibly effective that I reckon it to cure your lumbar lordosis loss within the first few months of ownership. It's available only on the driver's seat though, but no one said that your family members can't take turns to enjoy it when the car is stationary.
That said, it's quite intriguing that MG skimped on the "ventilation" feature for the passenger seat. Come on MG, even the 15-lakh-rupee KIA Sonet has ventilated front seats for both the passenger and the driver. Still, the Gloster's front passenger seat is 8-way power-adjustable (the driver's is 12-way adjustable) including 4 adjustments for lumbar support. It's also heated, which should help in Delhi winters.
Talking about seats and space, there's no dearth of headroom, legroom, and kneeroom all around, and though I could not call a joint-family meeting to discuss the comfort levels of the third row of seats, the first impressions tell me that they are again something that MG has made the best-in-segment. The first and second rows are definitely the best-in-segment; I didn't need any second opinion on that. MG has also provided grab handles for all passengers to make climbing into the Gloster a convenient affair.
The 3-zone climate control works flawlessly, and quietly, which also reminds me to tell you that the Gloster's is the quietest cabin in the segment.
But there are a couple of ergonomic quirks. The glovebox is smaller than the tiny watch-pockets on your denims, and though there is wirless charging and the phone holder grabs your phone more tightly than a disgruntled lover, you can't secure your phone in it the way it is meant to be held, IF the cable is attached to it for Android Auto / Apple CarPlay. You will have to store it in an upside down position, which wasn't an issue for me, but could be a nightmare for people with an OCD for such things.
I think I can mention in this section itself that the Gloster's LED headlamps have a brilliant throw and spread in pitch black darkness, but the illumination appears just about adequate otherwise.
The Gloster's boot space is 343 liters with all seats up. That's more than the Fortuner's 296 liters but less than the Endeavour's approx. 450 liters. MG has clearly chosen "more room for people" over over "more space for their luggage" in the Gloster. I appreciate that, and 343 liters is not bad anyway with all seats up. Fold the last row of seats, and you get 1350 liters of boot space!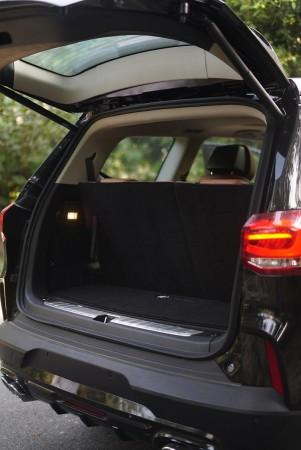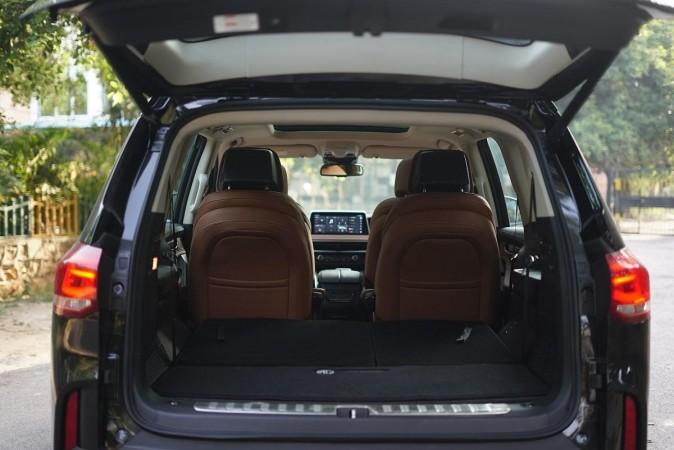 2020 MG Gloster Review: Features & Equipment
This might take a few days if I go on to even list (forget explaining) every feature. Therefore, I will talk about only the most important ones; you may check the rest on MG's website (the brochure is easily accessible, unlike on a few websites where the process involves linking your Aadhar Card, bribing a few officials, and more, to get some information).
Standard features and equipment across all variants
Six airbags, Electronic Stability Program (ESP), traction control, cruise control, Roll Movement Intervention (RMI), Hill Hold Control (HHC), Hill Descent Control, ABS, Electronic Brakeforce Distribution (EBD), Brake Assist, rear disc brakes, reverse parking camera, front parking sensors, rear parking sensors, heated ORVMs, rear defogger, ISOFIX child seat anchors, driver & co-driver double stage pre-tightening seat belts, driver fatigue reminder system , electric parking brake with autohold, auto headlamps , rain sensing wipers, LED Headlamps with auto leveling, LED daytime running lights, LED tail lamps, front fog lamps , rear fog lamps , 255/55 tyres on 19-inch alloy wheels (including the spare wheel), sound absorbing windscreen, 31.2 cm HD touchscreen, three USB charging ports, four 12V ports, 2nd and 3rd row AC vents , push button engine start/stop, keyless entry, and more is standard across all Gloster variants.
Funnily enough, the base variant's steering is only adjustable for rake; all other variants get rake and reach adjustability. One more such miss is the lack of Android Auto and Apple CarPlay in the base variant. There's USB and Bluetooth connectivity though.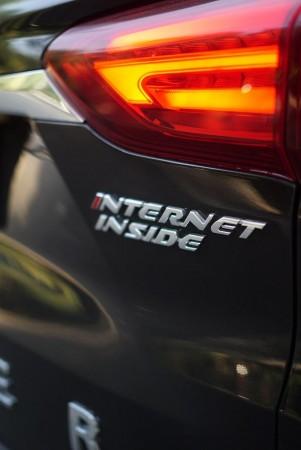 Also, the "connected car tech" (iSmart 2.0), which consists of more than 25 features (such as voice commands, Geofencing, Mapmyindia online navigation with live traffic, etc.) is also available across all variants (Smart, Sharp, and Savvy), save for the base trim (Super). The only exception is that the remote sunroof open/close and remote seat heating control features are available only in the top two variants (Sharp and Savvy).
Additional features and equipment in top variants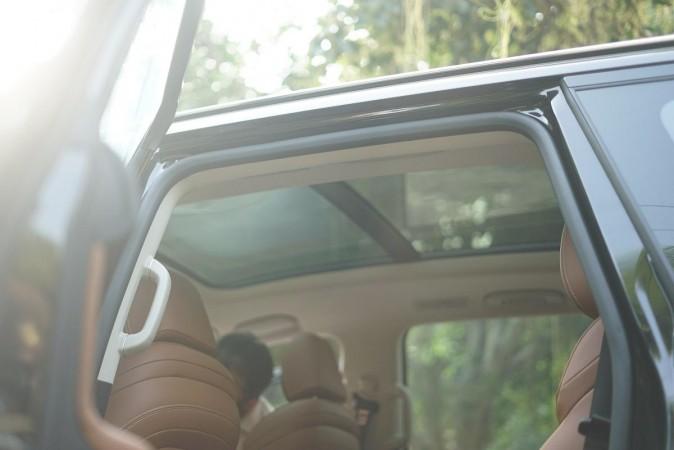 The top-end variant gets a panoramic sunroof, powered tailgate (all variants, except the base, get it), auto dimming IRVM, one-touch up/down and anti-pinch for all windows, and the entire gamut of MG's ADAS (Advanced Driver Assistance System) features. I shall briefly explain each one of them:
1) Adaptive Cruise Control (first-in-segment): Generally, how a regular cruise control system works is that it will maintain the cruise speed set by you, and your right foot isn't needed until you need to brake, or accelerate beyond the cruise control limit. For example, if you've set the cruise control at 80 km/h, and are cruising comfortably, you will have to brake on your own to avoid rear ending the vehicle in front (which might be doing, say, 70 km/h). Thereafter, you will have to accelerate on your own to overtake it. The Gloster's adaptive cruise control system does most of that automatically.
Therefore, in the same situation, the Gloster will brake on its own to maintain a safe distance (your speed will come down to around 70 km/h if that's what the vehicle ahead is doing), and start accelerating on its own when the vehicle ahead either increases its speed or moves out of your way. The Gloster will also start accelerating when you change lanes in this situation to overtake, provided, of course, there's no vehicle ahead of you in that lane.
2) Forward Collison Warning (FCW) and Automatic Emergency Braking (AEB) (first-in-segment): MG lists these as two separate features, but it makes more sense to talk about them together because while FCW warns you of a possible collison, AEB applies brakes for you if it thinks it (the collison) is imminent. What's even nicer is that you do have three intensity-levels (High, Medium, and Low) for these systems, and after finding both High and Medium to be too intrusive for our conditions, I kept both systems at Low. You may choose to just use FCW in isolation or with AEB. I chose the latter. Yes, you do have the option of switching it completely off. Don't do it.
3) Blind Spot Detection (BSD) (first-in-segment): This system essentially tells you that there's someone in your blind spot, but it forgets that we are Indians, and that we know it already. I mean, unless you're driving at 3 am on an expressway, there will always be a guardian angel, on a Splendor, following you so close that if you're not considerate he would meet his own guardian angel in a jiffy. Well, that explains the presence of BSD, because not every car driver is thoughtful.
4) Lane Departure Warning (LDW) (first-in-segment): This is one feature I feel that every vehicle in India should come equipped with. It warns you upon detecting "unintentional" deviation of the vehicle (the camera detects lane markings on the road and monitors the vehicle's position) from its lane. But how does it know that it's unitentional? Simple--if the lane change is not preceded by you signalling your intent by using that elusive cigar-shaped piece of plastic behind the steering wheel, also known as the lane change / turn indicator stalk. Bravo!
5) Automatic Park Assist (APA): Irrespective of how high we think of ourselves as drivers, the fact remains that each one of us has experienced and will continue to experience that "will it fit?" moment while trying to zero in on the right parking spot for a bigger than usual car. Here, APA helps. It not only tells you whether there's enough space for the Gloster to squeeze into, it will also steer the vehicle for you into that spot. And, it works for both parallel and perpendicular parking.
2020 MG Gloster Review: Performance & Fuel Efficiency
As mentioned earlier, the Gloster is available in four variants: Super, Smart, Sharp, and Savvy. All of them have the same 2.0-liter turbocharged engine, but the difference is that while Super and Smart variants get the single turbocharged version of the same engine, Sharp and Savvy get a twin-turbo unit. Here are the power and torque figures of both the engines:
2.0 Twin-turbo: 218 PS at 4,000 rpm and 480 Nm at 1,500–2,400 rpm
2.0 Turbo: 163 PS at 4,000 rpm and 375 Nm at 1,500–2,400 rpm
Of course, every media house, including IBT, has driven only the top-end twin-turbo variant, so that's the engine you're going to know about today. As you can see that it's the most powerful in its segment and I am happy to report that these numbers don't lie when you get behind the steering wheel. The zero to hundred sprint is dismissed in a shade under 12 seconds, which is quick for what is actually a 500 square yards bunglow. Naturally then, it's as stable as one, even at triple-digit speeds. What's most impressive though is the Gloster's braking—it achieved a 100-0 km/h time of under three seconds in this test. That's not just impressive, but phenomenal.
Owners will also find day-to-day driving to be a cinch, thanks to excellent outward visibility, light steering wheel, a responsive yet smooth engine and gearbox combo. I should mention here that all variants of the Gloster get the same eight-speed automatic transmission (torque converter). Also, every variant, except the base, gets paddle shifters as well. You might not use them ever because there's enough power everywhere in the rev range, even in Eco mode, and everything—be it getting away from traffic when the signal's green to overtaking a rashly driven state transport bus—is merely a dab of the right foot away.
The ride quality and body roll would again be two things that are the best in this segment! That in turn should tell you that the Gloster's handling isn't shabby as well, and you'd be right. Also, I am glad that MG chose to refrain from adding too much artificial weight to the steering, which wouldn't have gone down well with the target audience. As such, the steering remains relatively light at all times, but never vague or disconnected from the real world. Moreover, despite being a body-on-frame construction, like the others in this segment, it didn't feel floaty at high speeds. Of course, it's no Porsche Cayenne, but I was pleasantly surprised to see that the chassis dynamics are more sorted than its seasoned competitors'!
Now you can't do a tankful-to-tankful fuel efficiency test on a vehicle with a 75-liter fuel tank in a first drive that lasts for only a few hours, but I can still give you the best "average" fuel efficiency figure thrown by the Gloster's instrument cluster—9.5 km/l. I don't think it would be unreasonable to expect around 7-9 km/l in city traffic, and 10-12 km/l on highways.
2020 MG Gloster Review: Offroad review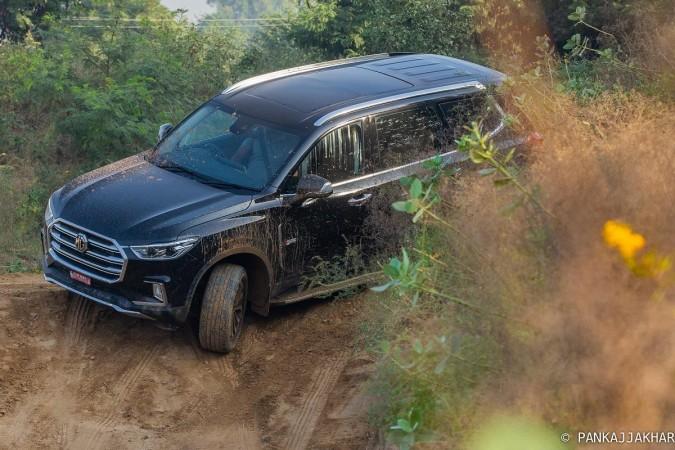 How does it perform offroad? Brilliantly! It would exceed your expectations. The entire 12-13 obstacles, which the Off Road Adventure Zone (ORAZ) comprises, proved to be a walk in the park for the MG Gloster. I'll tell you why.
First of all, the MG has proper 4WD hardware: live axles front and rear, center diff, lockable rear diff, and low range. Secondly, there's 210 mm of ground clearance and that's more than enough for all the off-road excursions a buyer of this class of vehicle would contemplate. Don't worry, I shall explain every feature of the MG Gloster that exists to help you wander off the beaten path without any fear or anxiety at the back of your mind.
Live axles front & rear (also known as AWD/4WD/4x4): The MG Gloster is primarily a two-wheel-drive (2WD), or a rear-wheel-drive (RWD) to be precise, vehicle, which means that power goes to the rear wheels only, unless the front axles are summoned as well. Then, the Gloster becomes an all-wheel-drive (AWD) vehicle with the power going to all four wheels.
Please note that the term "2WD" is also used to describe an FWD (front-wheel-drive) vehicle.
Eco mode: This is the mode where it remains that 2WD/RWD I talked above. Therefore, in Eco mode, the rear wheels are doing all the work, while the front wheels are being pushed along. Please note that the Gloster's 4x4 system will NOT send power to the front axles on its own in Eco mode. Choose this mode to drive in city traffic, and your Gloster would give you the best fuel efficiency that it can extract from its dual-turbo engine.
Lockable rear differential: You have the option of locking the rear differential even in Eco mode in case one of the rear wheels loses traction and the power, by laws of physics, goes towards that wheel only, spinning it wildly, and leaving the other rear wheel (that has traction) feeling divorced without notice. Then, you would lock the rear differential, which, like a good mediator, would unite both wheels (their axles actually) as one, thereby giving them enough strength and love to get out of the "stucky" situation. I know the word is "sticky" (and not stucky), but it doesn't sound right in a "loss-of-traction" scenario. Once out of harm's way, and on to hard pavement, please remember to unlock the rear differential to avoid inviting heavy bills for driveline damage repair.
Auto mode: In fact, I would just recommend that you leave the Gloster in Auto mode all the time, irrespective of the surface you're on, and the Gloster's center differential will decide which wheels deserve more power. Yes, it works equally well on the road and off it too. Thus, Auto. I know it's not a VW review, but I couldn't refrain. What I meant to say was that whenever you're in doubt, choose Auto.
Snow, Sand, and Mud modes: You may call them Kashmir/Leh, Rajasthan, and Uttar Pradesh modes, respectively. Essentially, you put it in Snow mode while driving in snow; in Sand mode while dune-bashing, and in Mud mode while crossing a muddy-slushy track. These modes just alter the throttle response, but, truth be told, you don't really feel the difference.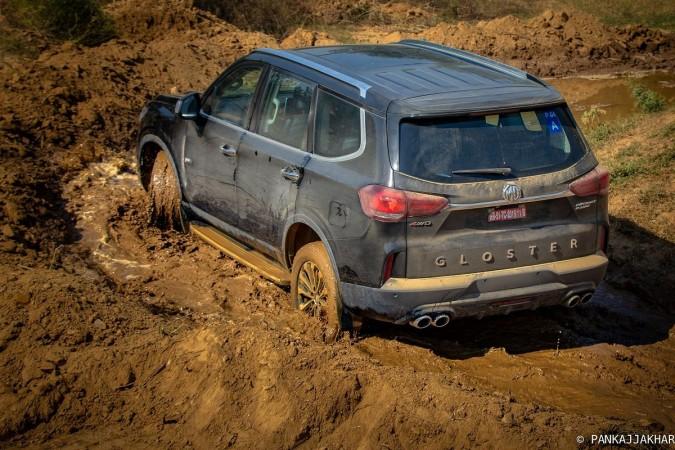 In fact, all such vehicles, including the Endeavour, should do away from these gimmicky modes, and just have 2WD, Auto (where the system decides whether to keep it in 2WD or AWD), and selectable 4WD Low Range. Here, I prefer the Fortuner's simpler H2 (2WD), H4 (AWD), and L4 (4WD low range) modes. But that's just me; the owners will take pride in the fact that seven drive modes are certainly more than the combined drive modes of the Endeavour and Fortuner. Yes, you may use that line at a party.
Rock mode (4WD Low Range): Many have incorrectly reported that the MG Gloster 4WD does not come with a low range ratio. Well, just because it does not have a button (though MG should have provided one) that says 4L or 4x4 Low, does not mean the vehicle does not have a low-range ratio. We are auto journalists, and not brochure readers. Our job is to FIND out stuff. Our job is to cross-check manufacturer's claims, even when they do not make any. Why I say that is because MG hasn't mentioned anywhere that the Gloster has a 4WD low ratio. They should say it, and say it loud.
Because not only does the Gloster have a low range ratio in its 4WD arsenal, it's better than its arch rival's. Just to put things into perspective, it would help you to know that the stock six-speed manual Jeep Wrangler Rubicon has a mind-boggling crawl ratio of 84.2:1. The extremely capable 2020 Mahindra Thar has a crawl ratio of 42:1. The Ford Endeavour 2.0 4x4 is close at 41.2:1. The MG Gloster? A segment busting 47:1! Yes, sir. Please do remember that you read that first on International Business Times.
This is also the only mode that, like traditional 4x4 transfer cases with low range, can only be selected by stopping and putting the vehicle in neutral (that itself should have told everyone that the Gloster does have low range). The rest seven modes are shift-on-the-fly, which means they can be engaged while on the move.
Sport mode: Not to be confused with the manual mode that you select via the gear lever, this, like the other modes mentioned above, is selected via the dial. What does it do? Well, it's primary job is to make you feel Jason Statham on the road. It quickens the throttle response, and, as compared to the Eco mode, yes, you do feel the difference. That said, you don't really need it because, as mentioned earlier in the story, there's enough power everywhere in the rev range.
Please note that in the 2WD Gloster variants, you still get three drive modes: Sport, Normal, and Eco.
I almost forgot to tell you that the Gloster's wading depth is 550 mm. That's 1.8 feet. Which means that if you're absolutely sure that the clogged patch ahead would not be deeper than that, please go right ahead, preferably in Auto mode, and the vehicle should emerge out of it unscathed. However, if your job involves the noble work of rescuing people from flooded areas, I think the Endeavour with its incredible 800 mm (2.62 feet) water fording ability will be the better vehicle for you. For all other applications in Gurugram and Mumbai, the Gloster's wading depth would suffice.
Also, while MG hasn't shared the approach, departure, and breakover angles for the Gloster, I would like to assure you that you won't be disappointed. The fact that no journalist was able to neither even scratch the front and rear bumpers, nor bend the footboards, serves as a fine testimonial.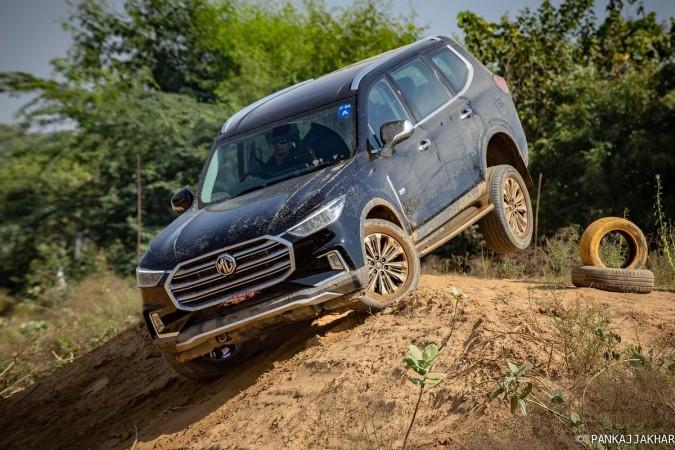 2020 MG Gloster Review: Verdict
The Gloster's Super and Smart variants are 2WD while Sharp and Savvy are 4WD. The prices are Rs 28.98 lakh, Rs 30.98 lakh, Rs 33.68 lakh (Rs 33.98 lakh for the 6-seater), and Rs 35.38 lakh, respectively. The Ford Endeavour's 2WD variants are priced at Rs 29.99 lakh and Rs 32.75 lakh for the two trims on offer, while its two 4WD variants are priced at Rs Rs 32.53 lakh and Rs 35.10 lakh. The Fortuner's 2WD is priced at 32.53 lakh while its 4WD variant costs Rs 34.43 lakh. Please note that these are ex-showroom prices of the automatic variants of all. In fact, all of them, except Toyota, offer these vehicles with automatic trasmissions only. The Fortuner manual 2WD and 4WD models cost Rs 30.67 lakh and Rs 32.64 lakh, respectively.
Although it's obvious, I would still mention that only diesels are being talked about in this article. The Fortuner is also available with a petrol engine, but that's a story for some other day.
As you can see, the Gloster 2WD is cheaper by a lakh than the Endeavour 2WD and by Rs 2.53 lakh than the Fortuner 2WD. Heck, it's Rs 1.67 lakh rupees cheaper than even the manual 2WD variant of the Fortuner. However, when it comes to 4WD options, it's the Endeavour that's the cheapest, followed by the Gloster, while the Fortuner is the most expensive. The top-end Gloster though is still the most expensive of the lot, but only by 67 thousand rupees than the top-end Fortuner 4WD, and just 20 thousand rupees more than the top-end Endeavour 4WD. That's loose change for buyers in this segment. They buy crackers for more than double that amount on Diwali.
Therefore, let's just say that the top-end 4x4 variants of the Fortuner, Endeavour, and Gloster cost the same. So, for the same price, the Gloster offers better interiors, space, and NVH levels than the other two. It is also more powerful and has better ride quality too. The on-road dynamics are again the best-in-segment, and the off-road ability is evenly matched. And then the ADAS safety features elevate the Gloster to another level altogether. Forget automobiles, I don't think there's another product, under any category, on sale right now in India that offers more value per rupee spent. Okay, last I checked, butter-chicken still topped that list, but not everyone likes it, right? The Gloster can be purchased by vegans as well.
Of course, the Fortuner comes with legendary Toyota reliability, and even the Endeavours have not been falling apart either. However, considering how the Gloster performed in these on- and off-road tests, I am ready to stick my neck out and say that, like the Endeavour, it won't fall apart either.