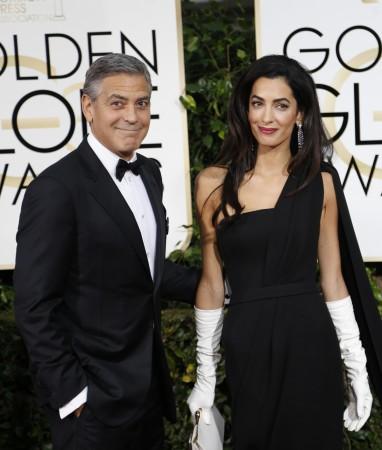 The 72nd annual Golden Globe Awards. co-hosted by Tina Fey and Amy Poehler, is officially underway, with some of the biggest names in television and the movies walking the red carpet. [Live Streaming Information Below]
Early arrivals included Lorde, Amy Adams, Kelly Osbourne and Rosamund Pike, who all looked stunning in designer labels.
Newly wed couple, George and Amal Clooney, were one of the main red carpet attractions and they looked at their fashionable best. Amal wore a custom black Dior gown and her husband looked dapper in a tuxedo.
George is going to be presented with the Cecil B. DeMille Award tonight and it will be presented by Don Cheadle and Julianna Marguiles.
The award function, which is currently live on NBC and hosted by Poehler and Fey, have already garnered a lot of Twitter chatter, giving rise to hashtags #GoldenGIobes and #Tina and Amy.
As expected, they did touch upon sensitive topic of Bill Cosby rape allegations right in the introduction, and a good number of Twitter users are pleased.
Here are some responses:
Wow- golden globe hosts Tina and Amy take on Cosby in the intro. Blunt words couched in a joke. People seemed taken aback

— Elizabeth Vargas (@EVargasABC) January 12, 2015
Tina and Amy calling out Bill Cosby on national television for being a rapist was the greatest thing to happen in 2015. — Jared Oban (@jaredoban) January 12, 2015
If you didn't laugh at Tina and Amy's Bill Cosby's jokes, then you have NO sense of humor #GoldenGlobes

— Gabby ♣️ (@gabrielle2216) January 12, 2015
Props to Tina and Amy for touching on the civil rights movement and Bill Cosby in their intro - not shying away from taking a stance! — Marissa D. Barrera (@mdb2) January 12, 2015
Interestingly, a lot of fans want the duo to be back for next year's Golden Globe Awards as well.
Live Streaming Information
Live coverage of the Golden Globe Awards is being shown via TheWrap. Click here to watch. The 2015 Golden Globe Awards ceremony will also be aired on NBC.