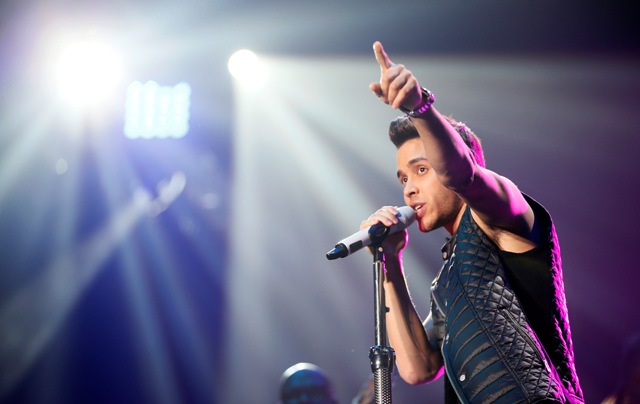 Prince Royce, who was one of the performers at the just-concluded 2014 Miss Universe competition, has become the subject of a lot of scrutiny after some fans raised doubts if he was singing live at the beauty pageant.
Royce rocked the stage during the swimsuit round, and just a few minutes later Twitter was abuzz with messages accusing him of lip syncing.
"No shade but Prince Royce wus heavy on that lipsync in that last performance," wrote one. "Prince Royce... I love you but learn how to lipsync better," added a second fan.
Yet another fan echoed similar sentiments, and wrote: "If Prince Royce is going to "sing" at #MissUniverse, he needs to learn how to lip sync."
"@PrinceRoyce #MissUniverse live ? #nonono that lip sync!! Just awful," opined a fourth one.
At the same time, a number of fans are standing by the singer, praising him for finally making a mark on the music scene with the Miss Universe performance.
Man, @PrinceRoyce singing a bachata song at #MissUniverse makes me proud as hell to be a bachatero. This is what I want more of, expansion!!

— Lynx (@OfficialLynx) January 26, 2015
The crossover is reallllll so many people watching tonight! Proud of you @PrinceRoyce #PrinceRoyceOnMissUniverse — Dammy C.❥ (@HisShawtyx3) January 26, 2015
It is safe to say that interest in Royce has piqued since the Miss Universe performace. But who exactly is the singer? The 25-year-old from The Bronx is originally named Geoffrey Royce Rojas, and some of his most notable songs are "Stand by Me" and "Corazón Sin Cara" from his eponymous debut studio album released in 2010.
The singer, who has toured with Enrique Iglesias and Pitbull, is currently working on his first English-language album and the first single off the album is "Stuck on a Feeling," which features Snoop Dogg.
Meanwhile, the Miss Universe pageant ended with Paulina Vega, Miss Colombia, winner the coveted titled. The 22-year-old was crowned the 63rd Miss Universe in a grand ceremony held in Miami, Florida on Sunday, where she faced tough competition from Miss USA, Miss Netherlands, Miss Ukraine, and Miss Jamaica.