Buzz is that trailer of "Thuppakki" will be shown along with Surya's "Maattrraan" which will hit the screens on Friday, Sept 12.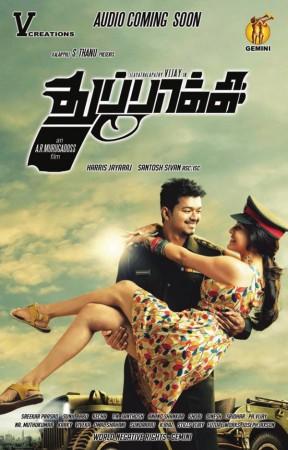 The trailer of Ilayathalapathy Vijay's upcoming action thriller is all set to see the day of light after a pro-longed delay over the title issue.
The filmmakers will unveil the first ever trailer of "Thuppakki" in a press meet on Wednesday. Meanwhile, the audio of the film will hit music stores the next day, with no grand audio release function on cards.
"Thuppakki" movie bosses were reeling under pressure over the title controversy, which prevented them from carrying out promotional campaigns and an audio release. Since the case has come to an end, the filmmakers are looking towards promoting the movie online and in newspapers ahead of its expected Diwali release.
Ravi Devan, a former-aid of Tamil actor Kamal Hasaan, moved court against "Thuppakki" over the title, which he claimed is similar to that of his film "Kallathupakki" registered in 2009. He later decided to withdraw the case against the film, bringing much-needed respite to the film's makers.
Surya's "Maattrraan"

Meanwhile, Surya's "Maattrraan" has received a clean "U" certificate from the censor board last week, making it eligible to be watched by all age groups. It is the second film from the team of Surya, Anand and music director Harris Jayaraj, which delivered 2009 blockbuster "Ayan".
"Maattrraan" has Surya, Kajal Aggarwal and Vivek in the lead roles. The film is directed by Anand. The film story has conjoined-brothers as the protagonists.