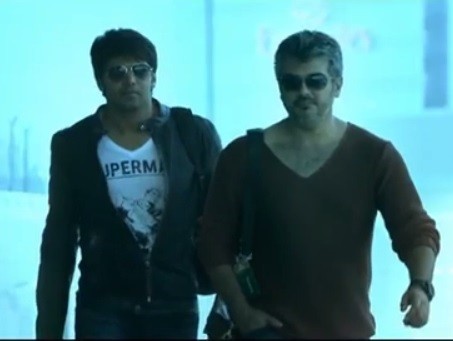 Ajith's much-awaited release "Arrambam" (aka "Aarambam") has opened to positive reviews from critics.
After a span of nearly six years, Ajith and director Vishnu Vardhan have teamed up once again for "Arrambam." The duo gave the blockbuster film "Billa" in 2007 and now the focus has shifted to the new film. Looking at the positive feedback that the film is garnering, it is more likely to be another blockbuster in Ajith's career.
The stylish, action-packed entertainer has taken a fantastic opening, despite releasing on a week day. Positive word of mouth is likely to get more audience followed by more revenues.
The film's plot revolves around Ashok Kumar (Ajith), who is on a mission to expose a scam regarding faulty bullet proof jackets that are provided to security forces. He along with his lady love Maya (Nayanthara) dupe computer hacker Arjun (Arya) into hacking one system after the other. When Ashok gets closer to achieve his goals, he gets arrested by the police.
Later, Ashok uncovers himself as a former member of an anti-terrorist squad and reveals about the scam. The rest of the story is about how he takes revenge on Home Minister (Mahesh Manjrekar) and his associate (Atul Kulkarni) involved in the scam.
"Arrambam" has Taapsee Pannu, Rana Daggubati and Kishore in supporting roles. The film's cinematography is handled by Om Prakash and the editing work is done by Sreekar Prasad. Its sound tracks have been composed by Yuvan Shankar Raja.
Here is the review roundup of "Arrambam"
According to Behindwoods Review Board, "Director Vishnuvardhan, writer duo Subha and editor Sreekar Prasad have to be commended for managing to keep the audiences hooked to their seats for a majority of the movie with very few drag moments. With a running time of more than two and a half hours, the screenplay is taut and crisp enough to keep the crowd arrested."
According to sify, "'Arrambam' lives up to the expectations and is a satisfying thrill ride for its variety in providing no-holds barred entertainment. Ajith' terrific screen presence and powerful dialogue delivery, smart writing, charismatic cast and action which is fast-paced are smartly packaged by director Vishnuvardhan."
Talking about the performances, Sify says, "Ajith himself gives a low-key, well-nuanced performance as Ashok, the conscience of this film; Arya is superb as the happy-go-lucky Arjun and his comedy scene in college with Nayan is a rocker."
The actress "is there throughout the film and she has some fine moments which she has scored big time. Taapsee is cute as Anitha, while Kishore as the straightforward cop on a mission is convincing. Mahesh Majrekar, Suman Ranganathan and Atul Kulkarni get a few moments to make an impression."
Indiaglitz says, "Simple, elegant and class but richly crafted to keep you tuned to the screen - 'Arrambam' is an interesting story in a gripping screenplay."
Talking about the technical aspects, the website says, "Om Prakash has canned every frame with passion. Cohesion and continuity is edgy and distinctly better only as the film progresses. Srikar Prasad has however done a commendable job in putting the pieces of action together in thorough entertainment. Background score adds volume to the story, supporting it substantially well."
Senior film journalist Sreedhar Pillai says that "Arrambam" is a "stylish over the top revenge romp. Ajith show from the first frame to the last. He has terrific screen presence."
Sreedhar also appreciated the work of "Arrambam" writers Vishnu Vardhan and SuBha as well as appreciated the performances of the film's cast members.
Verdict: Stylish action entertainer that will definitely impress Ajith fans.