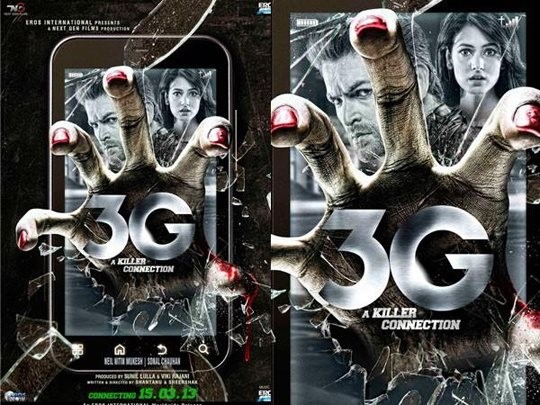 Bollywood's new release "3G - A Killer Connection" is a supernatural thriller directed and written by Shantanu and Sheershak. The movie stars Neil Nitin Mukesh and Sonal Chauhan in lead roles.
Produced by Sunil A Lulla and Viki Rajani, the movie was released on 15 March.
Here is what critics had to say about the film:
Ashay D of Koimoi.com said: "The script had a good potential but the writer lacked in planning it appropriately. Also the screenplay might be a puzzle for a majority of the audience. The attempt to render a successful thrilling effect is futile because of the cliché situations. There is no area of sensibility whatsoever. The cursed phone owned by Sam doesn't break even after applying all methods under the universe. Efforts are certainly taken by mentioning a fact that the word 'auroboro' means "a snake eating his own tail" and how that's linked to spirits being immortal and stuff.
"The exertions taken on the dialogues are equivalent to the ones projected in a 10th Grade school drama. The first lines that have entered the mind seem to be scribbled in the script. The scenes that are meant to display a horrifying outcome have successfully managed to make the audience laugh out loud, on literal terms.
"The star cast unfortunately wasn't able to pull off the suitable act required for a horror movie."
Shubhra Gupta of The Indian Express said : "Good idea, lousy execution. This is a mess of a movie, which ticks off its horror film checklist, one after the other: a church with a steeple, shadowy priests, spirits who wear splashy red gowns and kiss with a forked tongue, mysterious escort girls, 'mental' patients scribbling on walls, guilty killers who hang themselves and deadly islands.
"Nothing we haven't seen before, in various films that dabble in the weird-things-happen-to-nice-people territory.
"3G cobbles them together and delivers them in a standard Hindi movie format. Which means you keep getting yanked out of a scene that's meant to frighten you and plonked into a song-and-dance routine. Which means more bikinis, more beaches, and more surf."
Madhureeta Mukherjee of Times of India said: "Shantanu and Sheershak's core idea - that people receive phantom calls which are believed to be spirits trying to connect to our world - is dreadfully shocking, even unbelievable. The story idea can freeze you in fear. Sadly, 3G doesn't quite do that. Yes, there are a few scream scenes, paranormal panic, blood-curling (and blood-drinking, really) and phantasmal moments (car crash scene, Sam dancing with the dead and parts of the climax), but eventually it goes 'out-of-range' and drags stiffly with the weight of the dead.
"Along with a series of brutal events, the film is lavished with sinful series of bold kisses (perfectly tongue-in-mouth types), well shot and brave, very brave by Bollywood norm. Neil impresses and lives up once again; he's better as evil than good. Sonal sizzles in her bikinis, shows spark in some scenes and for the rest of it she wears a faintly shocked expression.
"With a few chills and fewer thrills, the 'spirit' fizzles here, with little left to toast!"
Ananya Bhattacharya of Zee News said: "The film is shot in the exotic Fiji and the crystal clear waters, the impeccable beaches and the grand-looking cottages are all a treat to the eyes. However, the brilliance of the sceneries falls badly short of making up for the weak script. The film begins by trying to unravel the mystery behind Sam's phantom calls, but ends up elsewhere. Sheershak and Shantanu's story, though fresh, loses its way in the maze that the guys create for themselves. '3G' loses steam after the first half and meanders off to another aspect of the 21st century life altogether.
"In all, '3G' works in spurts and due to its performances - and Neil Nitin Mukesh is mostly responsible for that. However, there's a sense of a connection being snapped somewhere. One will sit through the film but will be left wondering where he/she missed something. Two stars for The Killer Connection."
Ankur Pathak of Rediff.com said: "There isn't much one can expect from a film that has as unimaginative a title as 3G.
"Much of 3G doesn't quite make any sense.
"Even in this obvious realm of fiction, quite a lot of its elements and its lead actors are unconvincing.
"The director's ineptness is evident in the amateur transitions and the abysmal storytelling -- one that wallows aimlessly at everyplace conceivable; alternatively found in the textbook of horror-movie-must-visits (Churches, graveyards, the woods).
"Somewhere out there was an ambitious plot that went mind-bogglingly haywire. What we are left with is a tacky production that becomes a tele-comical excuse for Neil Nitin Mukesh and Sonal Chauhan's many, many vicious lovemaking sessions (one distasteful scene involves sucking of finger in a bathtub where Neil goes on to place a ring on the lady's finger with his tongue. Yes).
"Watch 3G only for a few cheap thrills."