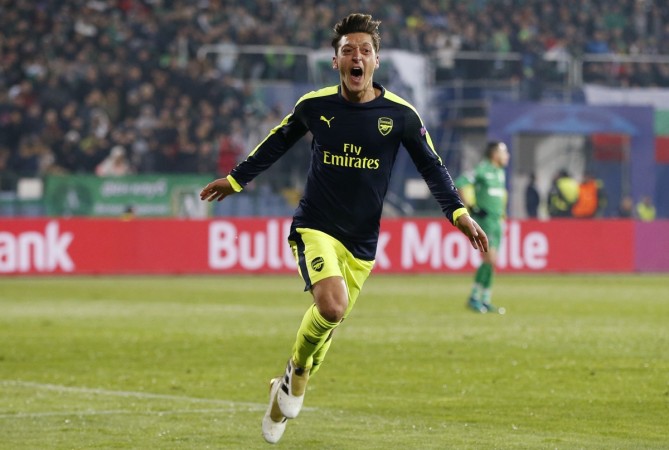 Arsenal had just clawed their way back from a two-goal deficit to draw level and the clock was running down in Sofia, where the English title-contenders were playing Bulgarian champions Ludogrets Razgrad.
With four minutes to go, magic happened.
The mesmeric Mesut Özil received a beautiful pass from Mohamed Elneny, that took him through and behind Ludogret's back line. Face with a one-on-one situation, Ludogret's goalkeeper Milan Borjan rushed off his line to head off the loping German international.
In a page straight out of the classic Lionel Messi playbook, Özil scooped the ball over the goalie, and rushed past him to pick it up on the other side. But what he saw before him was not a gaping, empty net. Defenders Jose Luis Palomino and Cosmin Moti had both rushed back and stood in wait for the German playmaker.
What they didn't reckon on was the consummate skill that was about to be unleashed.
Mesut dropped his shoulders and swivelled his hips as he left both defenders on their backside before slotting the ball home into the eventually empty net.
The iciness of the demeanour and the clinical finish may not be seen at all again this season neither will a one-on-three so definitively dismantled.
In the post-match conference, Arsenal's manager, Arsene Wenger was asked what he thought of the wondergoal. He likened it to what motivates him to be a football manager: "It is based on a generous idea; that the fan who wakes up on the morning of the game can think, 'I will see something special today'."
Great players make the right decisions in the game situations they face
"They take the optimum solution. To me, it didn't look like the optimum solution. You wanted him to take the chance earlier but he had enough skill to prove he was right. When the ball was in the back of the net, it was clear it had been the optimum solution," said Wenger.
Of course, Twitter went absolutely bonkers.
Ozil goal tonight is sensationallllllllllllllll ????

— Robbie Savage (@RobbieSavage8) November 1, 2016
Might be another 50k a week now ?OZIL top drawer ?

— Ray Parlour (@RealRomfordPele) November 1, 2016
If you don't love Mesut Ozil, you're a moving dead body.

— Mohamed ELNneny (@ElNnenyM) November 1, 2016