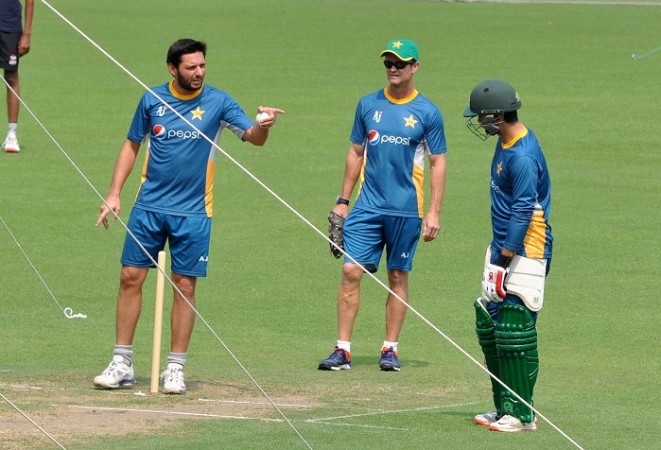 The first edition of the IPL, in 2008, witnessed a number of Pakistan players plying their trade in the cash-rich mega event. However, they have not featured in the competition since. International Cricket Council (ICC) president and a former Pakistan captain Zaheer Abbas wants to see the Men in Green participate in the IPL.
Sketchy diplomatic ties between India and Pakistan, have led to the Pakistani cricketers' absence from the competition.
The ICC president has received an invitation to watch the IPL Playoff matches, and Abbas has made it clear he will talk to the BCCI president, Anurag Thakur, about the benefit of Pakistan players' inclusion in the IPL.
"Thakur has invited me to witness remaining IPL matches and if I went India, I will talk about Pakistan players' participation in the IPL. The participation of Pakistan players will be beneficial for the Indian cricket event," The Nation quoted Abbas as saying.
Top stars from around the world participate in the IPL, playing against quality opposotion in the competitive league, which leads to overall improvement of a cricketer. International players get to learn tricks of the trade as all the franchises comprise of quality cricketers, who are keen to share their knowledge of the game. It is in this aspect that the Pakistan cricketers lose out.
"Our players are not getting the right opportunities and exposure. They are also not in the IPL," Abbas said.
Besides IPL, India and Pakistan have not been involved in bilateral ties either. A proposed series in December last year also did not take place, and the future of a bilateral series does not look bright. Abbas, who has played many an India vs Pakistan bilateral match, knows the importance of such fixtures, and wants the two countries to resume their ties.
"The cordial relations between the two boards are necessary for the growth of cricket in the region. The bilateral matches between the two countries will be of great significance for the future relations of the two neighbours," Abbas said.