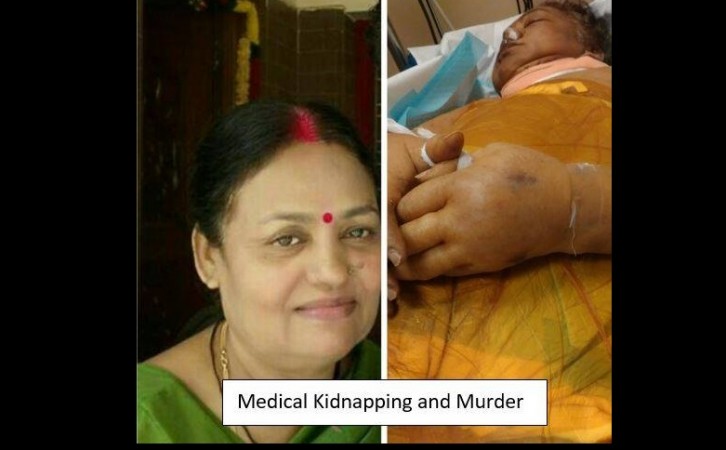 A Bengaluru-based man has alleged that a prominent hospital in the metro city has "killed" his mother after she was admitted for gallbladder stone treatment.
In the Facebook post of Abhinav Verma titled Medical Kidnapping and Murder by Doctors of Fortis Bannerghatta Hospital, he has detailed how his mother, who was fit and fine until May 13, lost her life with almost all the vital organs getting infected following Endoscopic Retrograde Cholangio-Pancreatography suggested by the doctor, who had 0.5% doubt if she has symptoms of cancer.
Abhinav claims that the hospital even charged a ransom amount of Rs 43 lakh just for the hospital bill and Rs 12 lakh for medicines alone, with which he thinks that one can even start a medical shop.
"Generally Kidnapping and murder is carried out by anti social elements/criminals of the society but there are people in this society who are not recognised as anti social element but they are not less than a kidnapper or a muderer.They are known as Corporate Doctors and their crime location is Hospital.Here,the ransom amount(Hospital Bill) is Rs 43 lakh and result :- Murder of my mother after keeping her in ICU for more than 50 days.This is reason why I compared Kidnapper with Doctor. Can you imagine the medicine cost they charged is nearly Rs 12 Lakh. With this amount I can even open a medical shop [sic]," he posted on social media.
Abhinav, who now fights for justice, claims that his mother's WBC, RBC, haemoglobin, platelets, bilirubin and creatinine were all tested, and her lungs, heart, kidney, liver and pancreas were functioning well when she was admitted to the hospital.
"13th May 2017,Dr Shabber Ahmad,he was supposed to do the Stone Surgery,he asked us to go for ERCP (Endoscopic Retrograde Cholangio-Pancreatography) because he was having 0.5% doubt that there is an symtom of Cancer.To rule out his doubt he asked us to undergo this Procedure and asked Dr,Pooranchandra KS to perform ERCP.The Biopsy report later confirmed that there was no symptoms of cancer [sic]," he added.
It is understood that post ERCP, his mother started suffering pain due to acute severe pancreatitis. Since it was a Saturday, she was treated by junior doctors, who gave her pain killers and was later moved to the ICU three days later when her blood pressure went down. All her vital organs were said to have been affected, and they even put a pace maker on her.
Abhinav has also criticised the hospital authorities for mentioning the gender of his mother as a male in a few reports. "In number of the reports they have mentioned Sex as Male,when we raised this point they said it is not affecting her treatment,it is only clerical mistake,you dont worry.One of the document I have where it is mentioned as Male and even signed by Senior Cardiology Doctor," he wrote.
He had also accused the hospital staff of stopping tracheostomy (a type of surgery for oxygen supply) in the middle as they had to pay a huge bill amount, and the surgery was conducted only after paying the full amount.
"She was continuously having pain in her stomach and her stomach size was high but ICU team didn't bother to take any action.Internal bleeding started and they were not able to find out from where the bleeding happening. Almost 40-45 units of Blood,Platelets,Plasma were transfused to her.Finally,because of long ventilator stay she got infected with number of bacteria and most deadly one was MDR(Multi Drug Resistant)Klebsiella in her blood."
Ironically, almost all the surgeries were conducted except for the gall bladder, for which she was actually hospitalised, and as per one of the reports, there wasn't any stone in her bladder.
"Finally we lost the battle on 3rd July 2017.On her last day,her BP was continuously sinking and these doctors were saying we have done out best,we cant do anything more.Even on the last day they took consent to perform Dialysis to remove acid from the body.Slowly and slowly They know they cant do anything now and my mother is slowing dying so they called BOUNCERS in the ICU.I dont understand what is the need of bouncers in ICU.We lost her,she was in tremendous pain and we were praying that God Please take her with you.She is suffering."
Abhinav claims this to be a case of medical kidnap and murder and accuses that these corporate doctors and hospitals only run for the money. He has also mentioned about the death of another patient in the hospital that happened on July 2. "A patient died in ICU at around 10 PM and doctors and staff were laughing.CCTV footage can clearly show this," he added.
Here is the Facebook post of Abhinav that has gone viral on social media with over one lakh shares, at the time of reporting since July 13:
Hospital authorities respond
When International Business Times, India contacted the hospital management, PR manager Ojashwi Singh, this was their statement on the medical case:
As a responsible hospital we have done everything required with the consent of the patient's family. The patient was admitted with the diagnosis of acute cholecystitis with symptoms of periampullary carcinoma which has a poor prognosis. The condition was appropriately managed by a highly skilled multidisciplinary team at all times. The patient developed complications which are inherent to such procedures and despite the best treatment and efforts of our doctors she could not be saved. We understand the grief of the bereaved family and our condolences go out to them.