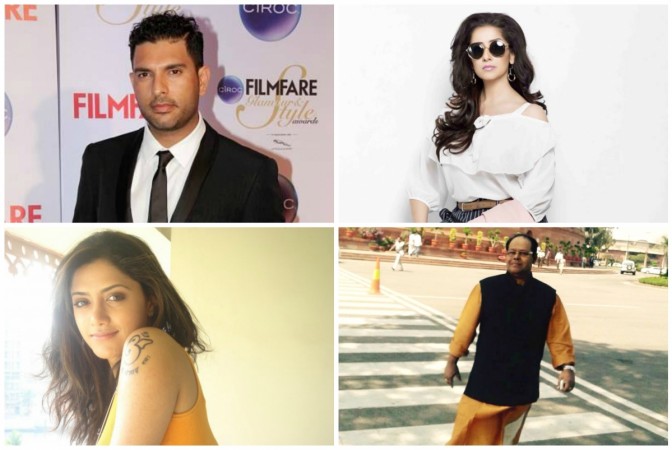 The World Cancer Day is observed on 4 February every year to create awareness to the public on the deadly disease. The theme for this year's cancer day is "We can. I can."
Many Indian celebrities, including cricketer Yuvraj Singh, actors Manisha Koirala, Lisa Ray, Mamta Mohandas, Gautami, Namrata Singh Gujral, Innocent, Jishnu Raghavan, director Anurag Basu, among others, have fought and survived against the deadly disease with their courage.
Yuvraj Singh
The promising cricketer was diagnosed with a cancerous tumour in his left lung in 2011 and was completely recovered in 2012 after his treatment in Boston and Indianapolis. With courage, he made a comeback to Twenty20 cricket match the same year and even published a book, "The Test of My Life", in 2013.
World Cancer Day 2016: Theme, facts and inspiring quotes by cancer survivors and celebrities
Manisha Koirala
In 2012, Bollywood actress Manisha Koirala was diagnosed with ovarian cancer and after the treatment in the US, she recovered in May 2013. Currently, she is actively involved in social work to spread awareness on the deadly disease.
Mamta Mohandas
South Indian actress and playback singer Mamta Mohandas was diagnosed with Hodgkin's lymphoma in 2010. After surviving the disease, she got married to her childhood friend Prajith Padmanabhan in 2011, but the couple applied for divorced in 2012. Later, her cancer relapsed and after undergoing treatment for a year in the US, she survived. Mamta is now active with her acting career and was last seen opposite Dileep in hit Malayalam movie "Two Countries".
Innocent
Innocent, veteran Malayalam actor and Member of Parliament from the Chalakudy Lok Sabha constituency, has been completely recovered from throat cancer after he was diagnosed with it twice in 2013 and then in 2015. The actor announced the news to his fans through his Facebook page on 17 December, 2015, after completing four-month-long treatment at AIIMS, New Delhi.
Anurag Basu
In 2004, the "Barfi!" director was diagnosed with acute promyelocytic Leukemia and he survived after three years of treatment.
Read More: Indian celebs who have survived cancer