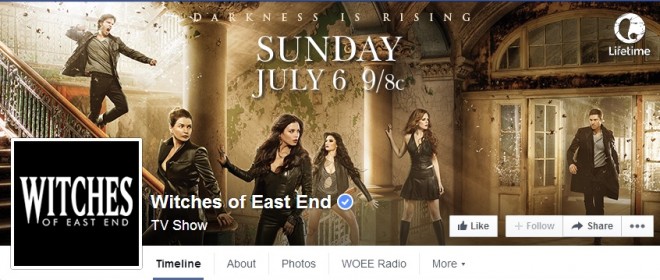 "Witches of East End" is taking a short hiatus, and will not be airing on 31 August, on account of the long Labour Day weekend. Episode eight of "Witches of East End," titled "Sex, Lies and Birthday Cake," will air the weekend after Labour Day, which falls on 1 September.
Melissa de la Cruz, author of the popular books from which the "Witches of East End" series is adapted, tweeted the news on her microblogging account, writing: "No #WitchesOfEastEnd this Sunday, y'all enjoy your Labor Day weekend and the witches and warlocks will be back the week after!"
When the series returns after the short hiatus, it promises to be an explosive one with Killian expressing his feelings to Freya, and Frederick seemingly embracing his darker side.
The episode will see Freya and her twin Frederick celebrating their birthday, which is said to be a milestone. This is the longest that either Freya or her sister Ingrid has lived and their mother Joanna is hell-bent on keeping them safe this lifetime.
But it might prove to be a difficult task, as Joanna will be forced to confront her worst fears in the upcoming episode. The fact that Frederick is being forced to speed up the process to fulfil his grandfather's plan is another cause of worry.
However, not everything will be gloom and doom in "Sex, Lies and Birthday Cake." Spoilers indicate that the couples in East End will get an opportunity to come closer, and viewers will finally see Killian confessing his feelings to Freya. In the episode, Killian admits that he is finding it difficult to move on, as he still loves her, and it is not immediately known if Freya will also confess to have feelings for him.
The promotional pictures of the episode show Freya flirting with Killian, and even giving him a free palm reading.
Meanwhile, Ingrid and Dash will also get closer, despite Freya's warnings about her former fiancé, and the relationship of Wendy and Tommy is also going to get a lot of attention.