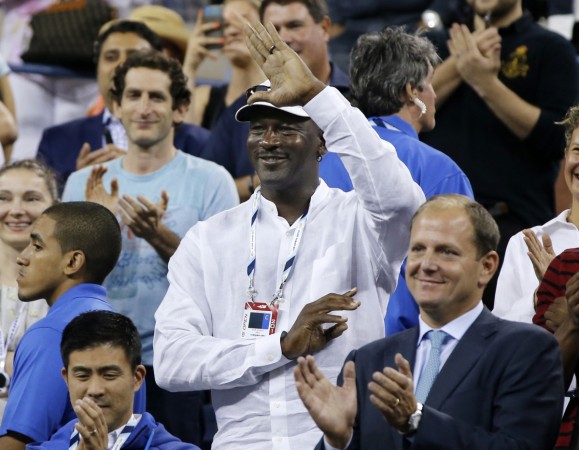 Basketball legend Michael Jordan made his first ever appearance in a tennis tournament, when he was a special guest to cheer Roger Federer at the US Open on Tuesday night.
The Swiss master put up a brilliant show, defeating Australia's Marinko Matosevic 6-3, 6-4, 7-6 (4), which clearly impressed the NBA Hall of Fame player, who was in Federer's courtside box at the Flushing Meadows.
Jordan admitted that he knew nothing about tennis but could not help but appreciate Federer.
"I know nothing about tennis," Jordan, who received massive cheers when his image flashed on Arthur Ashe Stadium's screens, told ESPN. "He's a good athlete. I know he played basketball a bit."
The two legends met in the match where Federer debuted a new Nike shoe - the Nike Zoom Vapor 9 Tour AJ3, which is inspired by a classic 1988 Air Jordan model. The new design is a collaboration between the two all-time greats.
.@rogerfederer rocking some new kicks tonight, an RF/Air Jordan collaboration. #ESPNTennis #USOpen pic.twitter.com/bJRTyRTvTO

— ESPNTennis (@ESPNTennis) August 26, 2014
"About a year ago, I heard that Roger wanted to design and wear a Jordan shoe on the court," said Jordan, according to Style.com. "I have followed Roger's career and have been a big fan for some time now. I definitely thought this could be a really unique and special collaboration, and when I heard that Roger wanted the shoe to be modeled after the Air Jordan 3, I was in."
Meanwhile, Federer said he was overwhelmed by the NBA legend's presence.
"It's just amazing having Michael here. Growing up he was my big sporting idol. ... Having him here is unbelievably special, and the collaboration is unique, so I love it."
The 33-year-old also posted a picture with Jordan on his Instagram account, which he created on the same day.
"It was an honor meeting one of my childhood idols today #MJ. Also, this is my first @instagram. How'd I do?" he wrote.
The photo went viral instantly, with more than 32,000 likes and thousands of comments. Over 1,25,000 people started following the 17-time Grand Slam winner on the first day itself.
Apparently, Federer has been a Jordan fan since high school. He had a huge Jordan poster in his room, according to a photo tweeted by Tennis History.
Teenage Roger Federer had a poster of Michael Jordan! They met for first time this week, MJ watching now at #USOpen. pic.twitter.com/L3Nb22sewx

— Tennis History (@HistoryOfTennis) August 26, 2014
Federer said he was inspired by Jordan in so many ways like "longevity, the way he made it look easy, his will to win, wanting to be the best, delivering under pressure."
"I'm just so happy that he came into the world of tennis a little bit, you know, got to see some tennis, that it was me, sort of being the character in the whole show. Meeting him yesterday for the first time was a big deal for me."