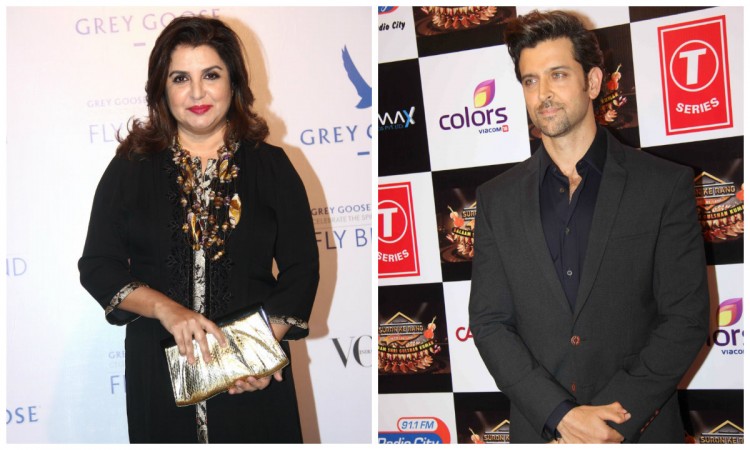 Hrithik Roshan is undoubtedly one of the best dancers in the industry, but choreographer Farah Khan once thought the actor could not dance. Hrithik made his debut with "Kaho Naa Pyar Hai", and the song "Ek Pal Ka Jeena", choreographed by Farah, from the movie became a super-hit.
Hrithik proved his dancing prowess with "Ek Pal Ka Jeena", but Farah had no idea about his dancing ability before she actually choreographed him. Having assumed that Hrithik could not dance, Farah thought of playing a prank on the "Mohenjo Daro" actor by asking him to replicate some break-dance movies. However, Farah was left shocked when she saw the actor dancing.
"I had no idea Hrithik could dance. He was a quiet boy who would come and rehearse diligently," Farah told Mumbai Mirror. The choreographer also said she initially suggested some simple steps for the song, but later asked her assistant to scare Hrithik by showing some break-dance moves and asking him to replicate the steps. After Hrithik did the task to perfection, Farah's reaction was: "Bloody hell, you didn't tell us you could dance like this!"
Farah added that initially she thought the song "Ek Pal Ka Jeena" was too slow to be a dance number, and gave Hrithik very simple dance steps. However, after she saw Hrithik dance, she immediately changed the choreography completely. While Hrithik later impressed all with his dance moves in the song video, one of the steps almost became a signature move of the star.
Hrithik will next be seen in "Mohenjo Daro", directed by Ashutosh Gowariker. The historical romance film will also feature debutant Pooja Hegde.