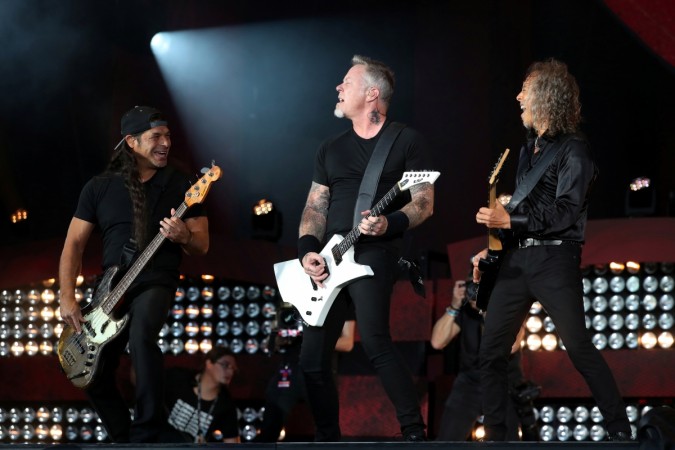 Metallica have just released their new music video Halo of Fire of their Hardwired ... to Self-Destruct album. And while there is little in it for fans of Metallica's Kill 'em all days, there is enough to keep the Metallica juggernaut rolling through the hipster era.
Halo on Fire is a cut from Metallica's upcoming 10th LP, Hardwired... to Self-Destruct, out November 18.
According to Rolling Stone magazine, the band will mark the release with a Blackened Friday event – a twist on Record Store Day's Black Friday – at hundreds of independent record stores across the US.
Fans participating in the midnight sale will be eligible to win items like limited edition vinyl slip mats and posters; the grand prize winner will receive the new album in a variety of formats, including the deluxe box set and a test pressing of the record.
According to Blabber Mouth, the deluxe version will also feature a live set recorded at Rasputin's in Berkeley, California on Record Store Day 2016 and a concert version of the song Hardwired recorded at US Bank Stadium in Minneapolis.
In August, drummer Lars Ulrich spoke to Rolling Stone about Hardwired, detailing the album's "simpler" songs. "We introduce a mood and we stick to it, rather than songs we've done where one riff happens and we go over here and then over there and it becomes a journey through all these different soundscapes," he said.
"The songs are more linear. And by 'less frenetic,' I mean there are certainly less starts and stops in the songs. It cruises along a little bit more than the last record," he added.
Directors for the videos include: Jonas Åkerlund, who originally worked with the band on Turn The Page and Whiskey In The Jar, album package photographers Herring and Herring, Colin Hakes, Clark Eddy, Tom Kirk, Claire Marie Vogel, Jessica Cope, Rob Valley, Phil Mucci, and Metallica's videographer Brett Murray.