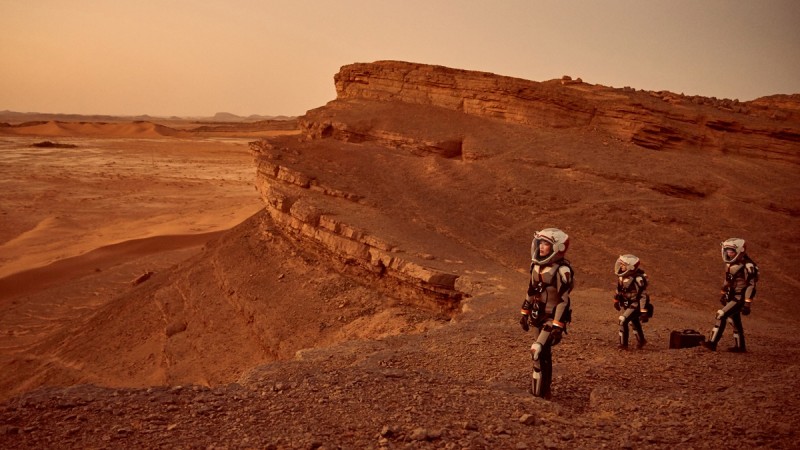 It was only a matter of time before National Geographic joined the Discovery and History channels in making scripted TV shows of the historical or fictional variety.
NatGeo's spanking new sci-fi saga, Mars, which airs tonight (Monday) 9pm EST, takes a closer look at how humans can colonize the Red Planet.
And in keeping with National Geographic's scientific ethos, Mars is steeped in science and fact. Even the date of the so-called Mars mission is set at a realistic 2033.
The show is dotted with interviews with genuine experts who discuss all things Mars and all things manned exploration.
Among those interviewed are James Lovell, the commander of Apollo 13, Elon Musk, the CTO of SpaceX, and Andy Weir, the author of The Martian.
WHERE TO WATCH MARS

After the six-episode run is over, the series will be available for free streaming for two months beginning on December 24. The stream will be available on the National Geographic VOD Channel, Android, iOS, Xbox and Roku among others. Mars can be purchased at Amazon, Hulu, GooglePlay and iTunes.
The Huffington Post reports that author Steven Petranek, whose book How We Will Live On Mars provided much of the impetus for this series, says that eventually two parallel development teams, private and public, will join forces and that their combined effort will make a Mars mission both inevitable and less dangerous.
But Mars isn't all scientists talking jargon, the fictional scripted part of the series is a nail-biting thriller of space flight and its inherent pitfalls.
While the first episode may not immediately grab the attention of those who've been binging on SyFy's Expanse series or who have a penchant for big budget Hollywood fare, it's worth giving the series a chance.
NatGeo has pulled out all the stops and embedded the science into some pretty fancy cinematography and scripting. This series could pave the way for more science-based fiction...hopefully.