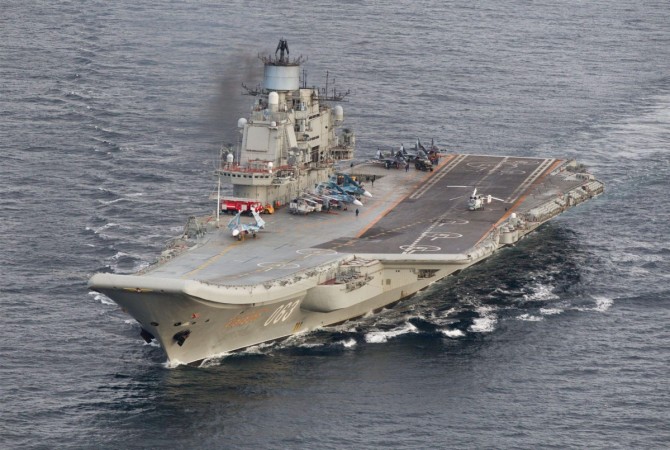 The Russian aircraft carrier group led by the missile cruiser Pyotr Veliky has arrived in the Mediterranean Sea, Russia's Defense Minister Army General Sergey Shoigu tols TASS on November 1.
"Last week, our shipborne air strike force led by the missile cruisier Pyotr Veliky passed through the eastern Atlantic into the Mediterranean Sea.
"On October 27-29, support vessels replenished the naval group with all types of supplies to the required level," Shoigu said at a conference call in the Defense Ministry.
The Russian warships' voyage "generated a buzz among Western partners," Shoigu said.
"But we were especially surprised by the position of some countries, which publicly stated under the pressure of the United States and NATO about their refusal to let our warships call at their ports. However, this did not affect in any way the schedule of their passage along the designated route as they are provided with all necessary resources," the Russian defense minister said.
According to Shoigu, the Russian groupings at the Hmeymim air base and the Tartus naval maintenance base in Syria are also supplied with all the necessary items as 2,000 tons of cargoes are delivered there on average every day.
The refusal of some countries to allow Russian warships to call at their ports has demonstrated how "our partners understand their contribution to the struggle against international terrorism in Syria," Shoigu said.
The Russian Northern Fleet's aircraft carrier group began its voyage to the north-eastern Atlantic and the Mediterranean Sea on October 15.
According to data of the Northern Fleet's press office, the group comprises the heavy aircraft carrier Admiral Kuznetsov, the heavy nuclear-powered missile cruiser Pyotr Veliky, the large antisubmarine warfare ships Severomorsk and Vice-Admiral Kulakov and support vessels.