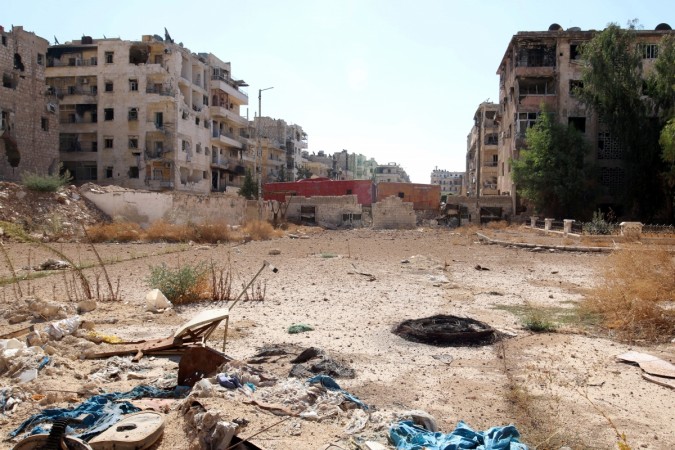 Residents of eastern Aleppo were waiting anxiously on Monday after receiving a terrifying text message telling them to flee or die.
The text message sent Sunday to residents warned the sick and wounded to leave before a "strategically planned assault using high precision weapons occurs within 24 hours," CNN reported.
Experts believe that the message was sent by the Syrian government, the only party believed capable of sending a text en masse, which has been in a months-long bid to regain control of the area held by rebels. Despite the threat and a worsening humanitarian situation, many are refusing to leave.
The Syrian regime, along with Russia, have obliterated parts of the city's east in recent months, and although they say they have created humanitarian corridors out, many residents do not trust that they will make it to safety on the other side, CNN reported.
Others are refusing out of principle.
"My wife is afraid, my little students are afraid of what's going on -- we should be afraid," English teacher and activist Abdulkafi Alhamdo told CNN on Monday.
"We want the world to know we are here to stay, not ... because we could not go out. We could have gone out many times -- death might come, but death might come anywhere. But our freedom cannot be found anywhere," he said.
Meanwhile, an air strike hit a hospital in the rebel-held Syrian village of Awaijel, west of Aleppo killing at least one person in the early hours of Tuesday, according to wire services. This is the third hospital to be attacked in two days.
Jets hit Awaijel's Baghdad hospital with rockets, injuring medical staff and patients, including some who had just moved there from a hospital hit in nearby Kafrnaha on Monday, the Syrian Observatory for Human Rights said.
An air campaign by Syria's military, backed by Russia's air force, has intensified in the villages and small towns of Aleppo and Idlib provinces in recent days, the Observatory reported, after a foiled rebel offensive in the west of the city.