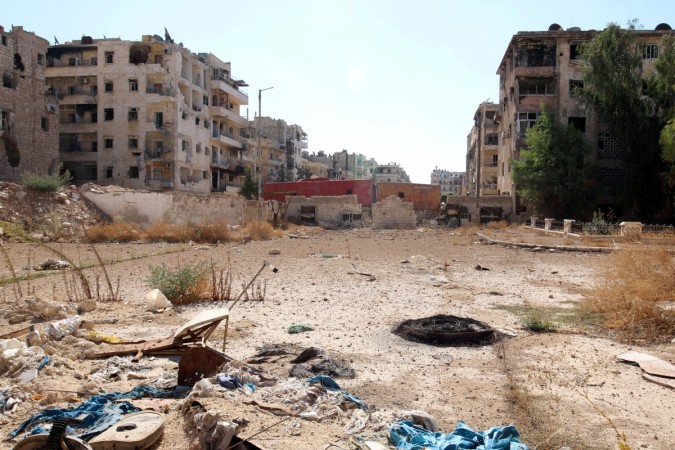 On Sunday night, the residents of Aleppo received a text message telling them to flee the city or die. Most couldn't, trapped between anti-Assad rebels and the Russian-backed Syrian government forces.
The warning, however, was ominous, and on Tuesday night, the portents came true.
Warplanes carried out heavy airstrikes on neighborhoods in rebel-held east Aleppo for the first time in weeks Tuesday, as Syrian government forces launched a renewed assault to take the city.
At least one woman was killed and five people injured by a barrel bomb dropped by a helicopter Tuesday, an activist with the Aleppo Media Center (AMC) told CNN.
According to Syrian state television, the army is making a ground push in several areas to tighten their siege of rebel-held neighborhoods, and has cut off supply lines from the rebel-held province of Idlib in the north.
One anchor referred to today's airstrikes as "zero hour" for a wide-scale assault on terrorism across the country, including airstrikes by the Russian Air Force, CNN reported.
The offensive began hours after Russian President Vladimir Putin and U.S. President-elect Donald Trump discussed Syria over the phone and agreed on the need to combine efforts in the fight against what the Kremlin called their No. 1 enemy — "international terrorism and extremism."
Russian Defense Minister Sergei Shoigu said in a meeting with Putin on Tuesday that the operation involves the aircraft carrier Admiral Kuznetsov, which made a much-publicized trip to Syria's shores last month. He said Russian warplanes will target ammunition depots, training camps and armaments factories in the rebel-held province of Idlib and the central province of Homs. He did not immediately mention Aleppo.
Meanwhile, Syrian activists reported strikes in all three places — Idlib, Homs and Aleppo.