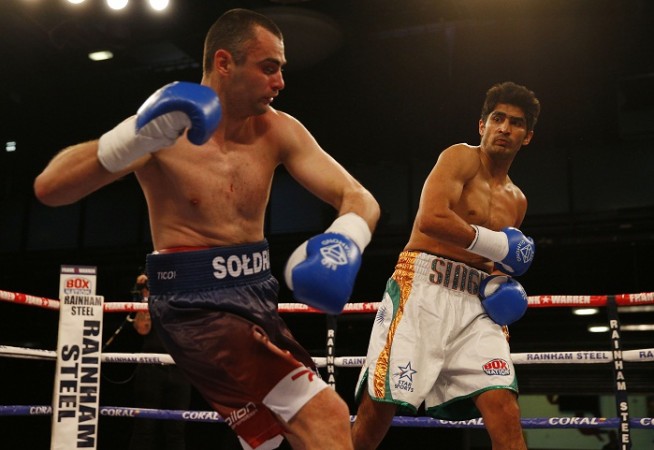 India's Vijender Singh has had an impressive start to his pro boxing career, winning all his seven bouts so far. Such results have helped him break into World Boxing Organisation's (WBO) top 10, and the pugilist has an even higher ambition to become the world number one.
Though attaining the top spot is not going to be an easy task, he has shown that he has got all the ingredients of a quality boxer. The India boxer clinched his first major title last month, defeating European champion Kerry Hope to take home the vacant WBO Asia-Pacific title.
It was Vijender's biggest test in his career, as the bout lasted the entire 10 rounds. In all his previous fights, the India boxer had won via knockouts, outshining opponents with his strong jabs and punches. Andrzej Soldra, Matiouze Royer, Alexander Horvath, Samet Hyuseinov, Dean Gillen and Sonny Whiting are the other boxers, who have faced the wrath of Vijender's power.
After attaining his highest-rank – 10 in the super middleweight division -- after turning pro, he does not want to turn back. It is a huge achievement for Vijender, who only started his pro career in October last year.
"It's just the start for me, one day I want to be the No.1 in the world. That's my dream and I am sure I will achieve it," Press Trust of India quoted Vijender as saying.
The Indian boxer is the only Asian in the top 10. USA's Jesse Hart stands on top of the chart at number one, followed by Armenia's Arthur Abraham at second position. While Vijender may be eager to attain such top positions, the climb is stiff. However, the feat can be achieved with serious training and dedication.
Complete list of WBO top ten rankings
| | | |
| --- | --- | --- |
| 1 | Jesse Hart | USA |
| 2 | Arthur Abraham | Armenia |
| 3 | Robin Krasniqi | Germany |
| 4 | George Groves | United Kingdom |
| 5 | Patrick Nielsen | Denmark |
| 6 | Isaac Ekpo | Nigeria |
| 7 | Zac Dunn | Australia |
| 8 | Jamie Cox | United Kingdom |
| 9 | Matt Korobov | Russia |
| 10 | Vijender Singh | India |