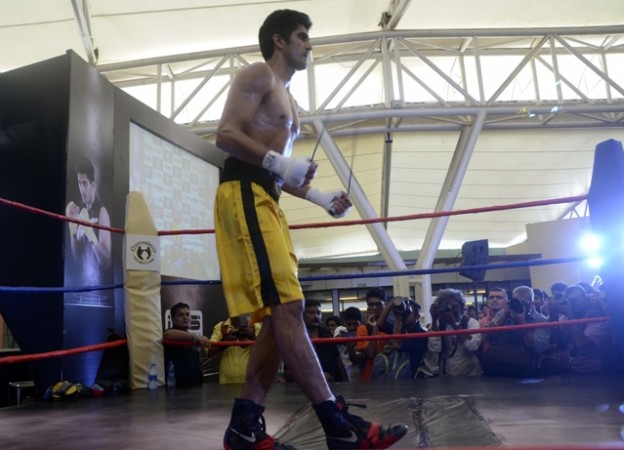 Vijender Singh will have to wait for one more month for taking part in his fourth boxing bout as a pro. The Indian pugilist, who has created shockwaves across the pro boxing circuit after his impressive performances, is scheduled to fight at the Echo Arena in Liverpool on 12 March.
The 2008 Olympics Bronze medallist in Boxing was initially scheduled to fight on 13 February, but a sudden injury to WBO World Lightweight Champion Terry Flanagan, who was supposed to take on Derry Mathews for the event headliner, forced the organisers to reschedule the complete event.
Vijender's fourth bout was scheduled as an undercard in the event.
"It's very unfortunate that my fight on 13th February is rescheduled because of an injury to the contender of title fight. But nevertheless, I am preparing hard and waiting for March 12 when I see my opponent in the ring," Vijender was quoted by the PTI on Tuesday.
"I am doing more sparring and physical workout these days and it will help me to prepare myself for more rounds," the pugilist from Bhiwani added.
Vijender, 30, has been on a roll ever since he took up the decision of turning a pro and giving up his amateur career in the middle of the last year. He brushed off the challenge from Sonny Whiting in his debut bout, and then Knocked Out (KO'd) Dean Gillen and experienced Bulgarian boxer Samet Hyuseinov in his second and third bouts, to record a three-match winning streak.
And continuing the same record in his fourth bout is the foremost thing in Vijender's mind, even though there is a slight inconvenience.
"We're all disappointed that Terry has suffered an injury and is unable to make the original date, but we've worked hard to ensure the mouthwatering world title showdown between Flanagan and Mathews remains the top of the bill for the new date of Saturday, March 12," Frank Warren, the event promoter, said.
"I maintain that it's going to be real war between these two warriors who are going to put everything on the line on the night. The rest of the card will remain the same with Langford and Askin in title defences and an undercard stacked with talent."