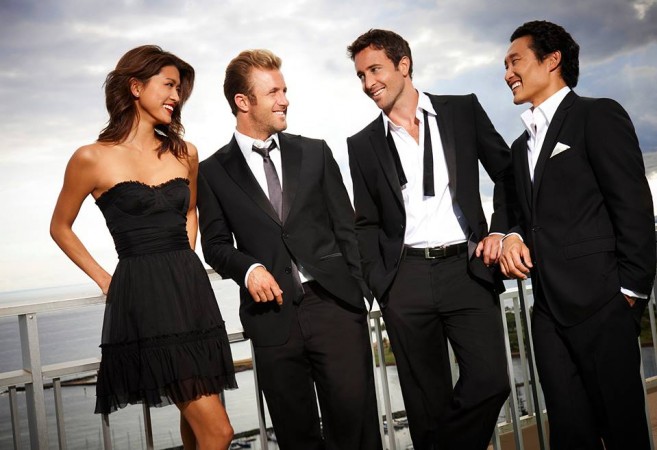 Bringing back some ER magic
ER fans rejoice, the show's showrunner Neal Baer is developing a new medical drama, according to Variety.
Fox has bought a script for The Beast, co-written by Baer and Dawn DeNoon. The project marks a reunion for the duo who worked together on Law & Order: SVU, on which Baer served as showrunner for 11 seasons.
The Beast centers around three challenging medical cases each week. In the end, two will live, one will die. Their doctor — with a clinical fear of death — never stops fighting the odds.
---
Black-Bishop to Queen 4
Oscar winner Holly Hunter will head up a multi-racial family in HBO's upcoming untitled Alan Ball drama.
Hunter will play Audrey Black, the therapist-turned-lawyer wife to as yet uncast philosophy professor Greg, and matriarch of the Black-Bishop family. Audrey and Greg decided to build a family by adopting children from Vietnam, Somalia, and Colombia before having their own child in their forties.
---
Political rivalry all in the family
Courtney B Vance will star in Kenya Barris' ABC political family comedy Libby & Malcolm, joining Felicity Huffman.
The project marks Vance's first major TV role since winning the best actor Emmy for FX's The People v O.J. Simpson: American Crime Story for his role as Johnnie Cochran.
Libby & Malcolm follows a married couple, Malcolm and Libby, played by Vance and Huffman. The series is about two polar opposite political pundits who fall in love despite all odds and form a family as well as a work partnership.
---
Night Shift sees light of Season 4
The Night Shift has been renewed for a fourth season at NBC, TheWrap has learned.
"Week after week The Night Shift tells incredibly engaging and emotional stories that draw us into a unique world," NBC Entertainment president Jennifer Salke said in a statement Thursday. "We are delighted to renew the show for an exciting fourth season and look forward to continue working with such a great cast and executive producing team."
During Season 3, the medical drama averaged a 1.0 rating in the key adults 18-49 demographic and 5 million viewers per episode in live-plus-same day.
---
News you can truly laugh about
Robin Thede, the former head writer and panelist for The Nightly Show with Larry Wilmore, has teamed with Jax Media to field an independently produced pilot for a weekly comedy news program.
The Rundown with Robin Thede is described as a fast-paced half-hour look at the week's headlines, celebrity newsmakers, social media buzz and pop culture trends. New York-based Jax Media is set to shoot a pilot on Monday that it aims to begin shopping to buyers by the end of this month.
---
Rothwell has no reason to feel Insecure
Natasha Rothwell is getting a double promotion on the new HBO comedy series Insecure, recently renewed for a second season.
Rothwell, who appeared in four episodes of Season 1 opposite star Issa Rae, has been named a series regular for Season 2. She also will continue as a writer on the show, created by Rae and Larry Wilmore, upped from a story editor to executive story editor.
---
Bye-O! Oka tells Hawaii Five-0
Hawaii Five-0's chief medical examiner is hanging up his lab coat.
Masi Oka, who's been a regular on the CBS procedural since Season 2, is leaving the show, according to Entertainment Weekly. The Heroes alum plays examiner Dr Max Bergman, who uses his medical expertise to help McGarrett (Alex O'Loughlin) and Danny (Scott Caan) solve crimes.
Oka debuted on the show in Season 1, then joined the cast full-time the following season.
---
Stars pile on to AMC's The Terror
Edward Ashley, Liam Garrigan and Ronan Raftery have signed on for recurring roles in AMC's anthology drama series The Terror, based on the bestselling 2007 novel by Dan Simmons. Scott Free, Alexandra Milchan's Emjag Productions, Entertainment 360 and AMC Studios are producing the 10-episode straight-to-series drama set to premiere in 2017.