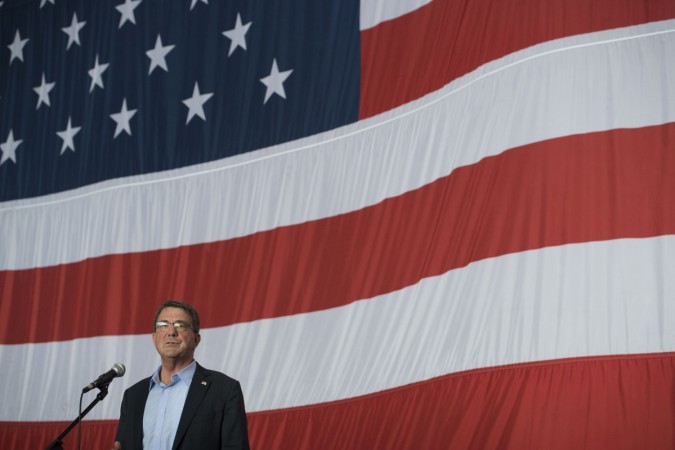 The United States is set to increase funds to fight the Islamic State by 50% to $7.5 billion and has also allotted $3.4 billion to deter 'Russia's aggression', the Pentagon said on Tuesday.
The US Department of Defense named Russia, China, Iran, North Korea, and counter terrorism as the five challenges that determine the Pentagon's budgeting, as Defence Secretary Ash Carter previewed the 2017 defence budget.
"We do not have the luxury of just one opponent.....In our budget, we must demonstrate to friends & foes alike that if they start a war, we have the ability and the will to fight and win," Carter said.
Carter said that the Pentagon will request $582.7 billion for the fiscal 2017 budget, adding that it was quadrupling the funds over the past year's allocation to face Russia.
"We're reinforcing our posture in Europe to support our NATO allies in the face of Russia's aggression," the US defence secretary said.
US also boosted its fight against ISIS under the Operation Inherent Resolve it had launched in 2014 by raising the funds.
"We have 3,700 boots on the ground in Iraq and we are looking for opportunities to do more. We have to take Mosul and we to take Raqqa to prove there is no such thing as the Islamic State," Carter said.
On the Russian operation in Syria, Carter added, "Russia said they will go in to fight ISIS, but they are only propping up Assad".
Carter also said that the size of the US Navy will be increased to 308 ships. "We are emphasising underseas," he said at the Economic Club of Washington.
Carter also touched upon North Korea's recent claims of testing a hydrogen bomb. "I don't think they were as successful as they said".
On China 's construction in the South China Sea islands, the defence secretary said that "everyone should stop land reclamation".
"We will fly and sail as international law permits. We are making investments specifically oriented towards the checking of the development of the Chinese military," Carter said.