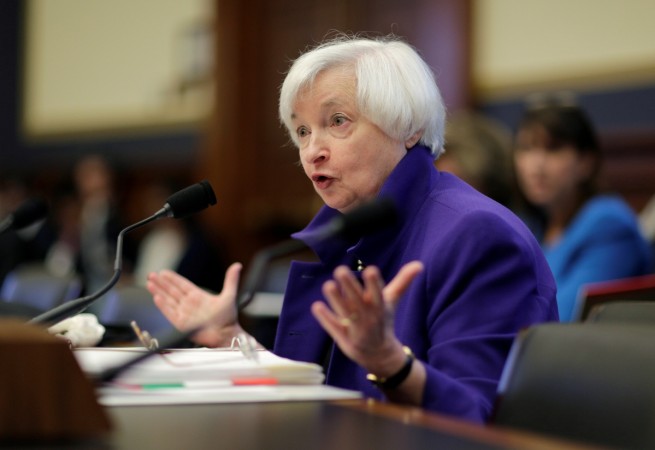 Janet L Yellen, the Federal Reserve chairwoman, said the US economy remained in good health, suggesting that the central bank was likely to raise its benchmark interest rate at its next meeting, in December.
According to the New York Times, Yellen's appraisal of economic conditions, in prepared testimony to Congress's Joint Economic Committee on Thursday, closely echoed her last assessment before the election, indicating that Donald Trump's victory had not shifted the Fed's short-term plans.
"US economic growth appears to have picked up from its subdued pace earlier this year," Yellen said, adding that job growth had also continued.
"Were the FOMC [Federal Open Market Committee] to delay increases in the federal-funds rate for too long, it could end up having to tighten policy relatively abruptly to keep the economy from significantly overshooting both of the Committee's longer-run policy goals," Yellen told the Joint Economic Committee in her prepared remarks.
"Moreover, holding the federal-funds rate at its current level for too long could also encourage excessive risk-taking and ultimately undermine financial stability."
Fed officials have left their benchmark federal-funds rate unchanged this year after raising it in December 2015 to a range between 0.25% and 0.50%, according to the Wall Street Journal.
Policy makers have signaled in recent weeks that they are closer to lifting rates again amid steady job growth, accelerating wage gains and signs of firming inflation. Fed officials will next meet on Dec. 13-14.
"A rate hike in December is a done deal, barring a significant surprise in the next jobs numbers or in financial markets," Jonathan Wright, an economics professor at Johns Hopkins University in Baltimore and a former Fed economist, told Bloomberg.
"But the pace of firming is likely to continue to be glacial because the funds rate will then be within about a percentage point of the FOMC's estimate of neutral," he said, referring to the level of rates that neither spurs nor slows the economy.