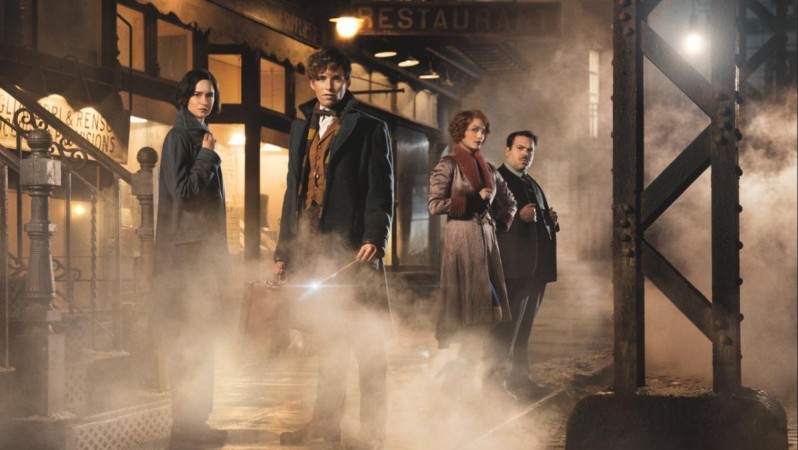 Warner Bros' Fantastic Beasts and Where to Find Them got off to a roaring start on Thursday night with $8.75 million just from the previews, which began at 6pm EST in more than 3,700 theaters, according to Box Office Mojo.
This puts it is on par with films such as Transformers: Age of Extinction, which also brought in $8.75 million on Thursday before opening with $100 million.
It is, however, not as much as the $9.4m Doctor Strange brought in on Thursday before opening with $85 million two weeks ago and well behind the $16 million The Hunger Games: Mockingjay - Part 2 brought in on Thursday night before opening with $102 million back in 2015.
Fantastic Beasts continued its international roll-out, adding 38 markets and ranking #1 in all 47 markets now in release with an estimated gross of $16.6 million bringing its two-day international income to $23.5 million.
Fantastic Beasts, a prequel to the Harry Potter franchise, is debuting in over 4,000 theaters over the weekend and looking at a #1 opening that could top $90 million, industry experts say.
Meanwhile, in case you thought Fantastic Beasts was the only film releasing Stateside, there's also coming-of-age film The Edge of Seventeen starring Hailee Steinfeld and Bleed for This starring Miles Teller.
Additionally, Box Office Mojo reports that Sony's Billy Lynn's Long Halftime Walk expands into over 1,100 theaters and limited release standout Moonlight gets a moderate nationwide release into 650 theaters.
Online ticket retailer Fandango.com reports Fantastic Beasts is outpacing Marvel's Doctor Strange, which opened two weeks ago with $85 million and an informal survey of early Beasts ticket buyers at the site found 94% identifying as Harry Potter fans.
Second and third position could be a scrap between Doctor Strange and Trolls, both looking at weekends of around $21 million (Strange is losing plenty of its IMAX screens to Beasts). Paramount's Arrival, which opened strong last weekend with just over $24 million, should be looking at a second weekend drop around 39% for a sophomore session around $14.5 million.
The battle for fifth position between the second weekend for Universal's Almost Christmas and the debut of STX's The Edge of Seventeen. Almost Christmas opened with just over $15 million last weekend and should drop around 42-46% this weekend, kicking off its second week with around $8.5 million while The Edge of Seventeen could open anywhere from $8-10 million.