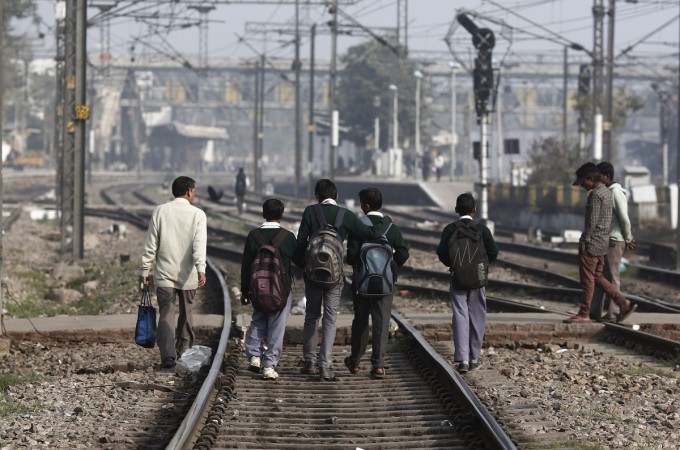 An 11-year-old boy from Unnao, Uttar Pradesh, who had written to Prime Minister Narendra Modi regarding the inconvenience students face at a railway track while commuting to the school, has received a response from the railways after the prime minister intervened.
Nayan Singh, 11, wrote a letter to the prime minister about the difficulties he and other students face while travelling to and from his school in Unnao due to the lack of a railway crossing between the school and their locality. The prime minister then told the railway ministry to step in, following which the northern railways wrote to Singh.
He had written that a newly laid railway track in the area has increased the travel time between his home and school, reported ANI.
"Accidents keep happening near the railway track. We face problems while going to the school in absence of a crossing," he said.
The northern railways in its letter to the boy has said that they can't construct a walkway or foot-over bridge unless the state government asks them to do so.
Singh's is not the first letter written by a child that has caught the prime minister's attention. In the past, Modi has responded to children's letters by directing relevant authorities to look into the mentioned issues.
In October, 2015, an eight-year-old boy Abhinav from Bengaluru had written to the prime minister that health and studies were affected as a railway gate in Yeswantpur remained close for the construction of a flyover, increasing the commuting time between his school and home from 10-15 minutes to 40-45 minutes, reported India Today. The Prime Minister's Office (PMO) had responded to him and directed the railway ministry to look into it.
Earlier in May, 2015, an eight-year-old girl Taiyyaba from Agra had written to the prime minister seeking financial aid for her congenital heart disease. The PMO had then directed the Delhi Government to provide Taiyyaba treatment, regardless of the cost, reported NDTV.