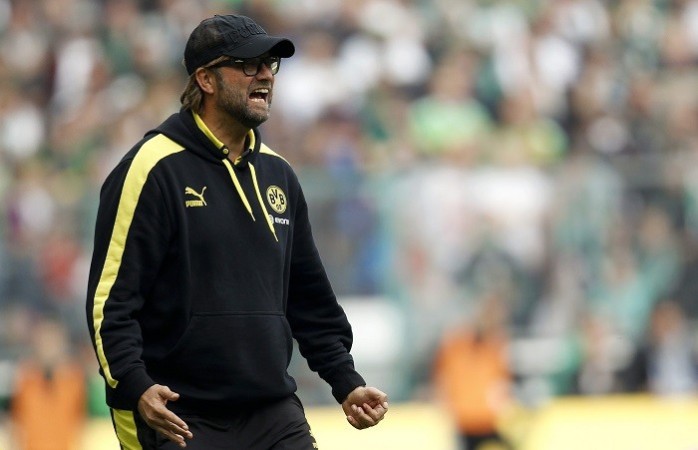 Borussia Dortmund manager Jurgen Klopp revealed he rejected approaches from English Premier League clubs in the summer.
Klopp is one of the most admired coaches in Europe at the moment, and was heavily linked with moves to both Chelsea and Manchester City, before their hired Jose Mourinho and Manuel Pellegrini respectively.
However, Klopp, who has helped Dortmund to back-to-back Bundesliga title and the Champions League final during his tenure, has no plans on leaving Germany anytime soon.
"There were some English clubs that called and wanted to speak with me," he told The Sun. "But there was no reason to talk. It's only hard to understand if you always think, 'can go to a bigger club.'
"I'm sure you could earn much more money at one or the other English clubs or at a Chinese or Russian club, but it's not the most important thing. If somebody told me two years ago, 'Some time they will you call you,' I would have said, 'Impossible.' And then they called and it was nothing.
"In life you have to be at the right place at the right moment. And I am at the right place at the right moment."
Dortmund, as a result of their recent successes, have seen several players, including Mario Gotze to Bayern Munich and Shinji Kagawa to Manchester United, leave the club for pastures anew. But Klopp, whose side face Arsenal in the Champions League on Tuesday, is currently not tempted to try out a new adventure.
"Players try to fulfil their dreams," he added. "I couldn't have dreams when I was their age. My dream was not to fall down on the pitch. I am 46 and have been coaching at this level for four years. I didn't start out thinking this team could be champions.
"I didn't think, 'Oh, when we are champions where can I go?' If you think about other clubs, you also have to think about what you have here. And it could not be much better anywhere else.
"It's not possible. Because at this moment, in this stadium, with this managing director (Hans-Joachim Watzke) and this technical director (Michael Zorc), everything fits."