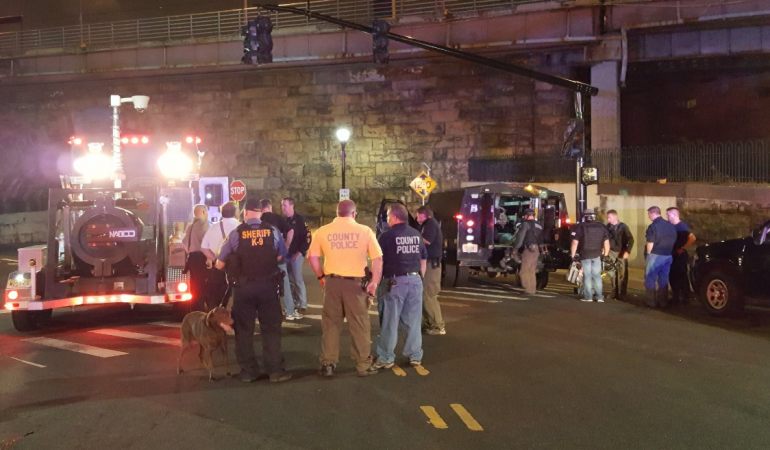 At least five devices were found in a backpack in a dustbin in Elizabeth, New Jersey, on Monday. The package was found a day after a blast rocked Manhattan, New York.
There were no mobile phones or electronic timing devices on or near the devices, according to the Elizabeth Mayor, Chris Bollwage. The devices were found near a train line, following which railways service in the area was stopped, CNN reported. Local shop owners were told to evacuate the area after the discovery.
Bollwage said he is concerned for the safety of everyone after five more devices were found.
According to earlier reports, a suspicious package was found early Monday morning in Elizabeth, New Jersey. Security forces, who were on high alert following Sunday's blast, arrived at the spot and detonated the package, which was found in a dustbin. Two men had alerted the police after they saw wires and a pipe attached to the package, CNN reported.
On Sunday, while one bomb went off, another one made of a pressure cooker with shrapnel inside, similar to the bomb used during the 2013 Boston marathon attack, was found. The same man was spotted at the sites of the blast and the discovery of the pressure cooker, surveillance videos have shown.
The bomb blast was a terrorist attack, but no further details have been given by authorities.
"Was it a political motivation? A personal motivation? We do not know. We know there was a bombing. We know it's a very serious incident. But we have a lot more work to do to be able to say what kind of motivation was behind this. All possible theories of what's happened here and how it connects will be looked at but we have no specific evidence at this point in time," Bill de Blasio, the New York Mayor, said.
As many as 1,000 extra security personnel were deployed in transport hubs in New York as a precautionary measure.
Five people were also detained in connection with the bombing in Manhattan's Chelsea area on Saturday, US media reported. The suspects were detained on a bridge between Brooklyn and Staten Island.
Hillary Clinton condemned the attacks on Minnesota, New York and New Jersey.
"I pray for all those who were wounded, and for their families," she said in a statement. "I am confident we will once agains choose resolve over fear," she concluded.
FBI Bomb Squad is on scene and continuing the investigation at the train station in Midtown Elizabeth. pic.twitter.com/qvmzsgisjC

— Chris Bollwage (@MayorBollwage) September 19, 2016
Police activity in Elizabeth, NJ, all NJ bound Amtrak and NJT trains are being held in Penn Station (MN). Consider alternate routes.

— NYCEM - Notify NYC (@NotifyNYC) September 19, 2016