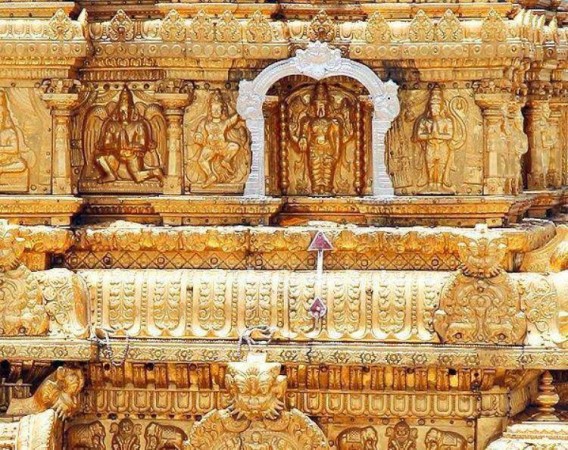 The world's richest Hindu temple is considering moving all its 7.5 tonnes of stacked gold under the gold monetising scheme (GMS), reported Press Trust of India. The Tirumala Tirupati Devasthanam (TTD), the trust which operates and manages the Sri Venkateswara Swamy Temple in Tirupati (Andhra Pradesh), wants the government-run scheme to be tweaked a little more for it to deposit its entire gold holding.
Related
A provision in the scheme proposes to consider and calculate the rate of interest as existing at the time of deposit and not at the time of return. The temple trust, however, has requested the government that such a provision in the scheme be changed, said trust's Executive Officer D. Sambasiva Rao.
"We have roughly about 7.5 tonnes of gold and most of it is in the banks. Gold with TTD is kept in various banks under different schemes. Then entire gold may be shifted to the Gold Monetisation Scheme as and when it matures," Rao said.
In March, the temple authorities requested the government to offer principal, and importantly, the interest in gold on maturity for its medium-term and long-term deposits, like in the short term format. They government duly complied as the temple's participation was crucial for the success of the scheme.
Donations and offerings at the temple by devotees account for about 800 kg to 1 tonne gold every year, according to Rao.
Under the GMS, gold can be deposited with banks for maturities ranging from one to three years (short term), five to seven years(medium term) and twelve to fifteen years (long term). Since the start of the scheme, the short term format has proposed repayments in gold for both the principal and interest accrued.
It was earlier reported that the pay back in gold will invite a fee of 0.2 percent on the value of gold redemption.