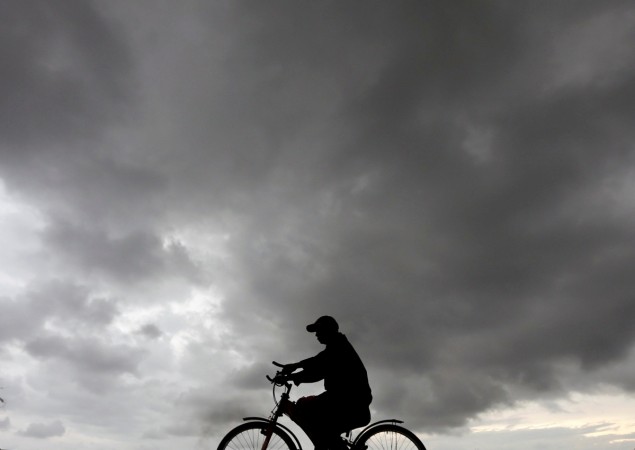 At least two people are believed to have died after a perfect storm triggered hundreds of thunderstorm asthma attacks and plunged Melbourne's hospitals into their busiest ever night.
Victoria ran out of ambulances last night as emergency calls jumped a staggering 450%, while several hospitals enacted disaster management plans to cope with floods of patients struggling to breath, according to the Herald Sun.
Health Minister Jill Hennessy said claims that two people died while waiting for ambulances during the storm would be the subject of a full investigation.
"No doubt, there will be lessons to learn, there always are in these cases, but every part of our emergency management surge occurred correctly," Ms Hennessy said.
One of those who died was Hope Carnevali, Nine News reported.
The 20-year-old died on the front lawn of her home after she could not be revived
Devastated family, including an uncle spoke to Nine News.
"She was very kind-hearted, beautiful gorgeous little girl. She'd do anything for anyone," he said.
"If somebody needed her she'd be there. She was an angel. We're going to miss her so much."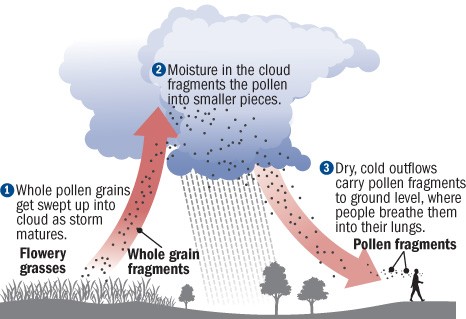 Those who suffered were not prepared. Most said they hadn't experienced asthma since childhood. They all had one thing in common: Hay fever.
"I've never had asthma but do get hay fever, mainly itchy eyes and sneezes, but there were weirdly no other hay fever symptoms (on Monday)," Kate Craig, from Melbourne's inner west, told news.com.au.
"It hit me all of a sudden about 7:30 last night, I felt like I couldn't take a full breath and had an awful, chesty, hacking cough. I thought I must have just inhaled some spices while cooking — that's what it felt like."
State health commander Paul Holman labelled Monday a "state disaster" and said he had not seen anything like it in 40 years on the job.
"It's a phenomenon we've only seen rarely before ... Within an hour (of the storm hitting) we'd received 160 calls, and had run out of resources. I can only speculate, but I think it was caused by the huge amount of irritants and pollen in the air," he said.
John Weiner has a scientific explanation for the bizarre event. The consultant physician at AllergyNet Australia predicted thunderstorm asthma would strike before it did.
"Perfect conditions for thunderstorm asthma in SE Australia today. Please review your asthma plan," Dr Weiner tweeted well before the storm hit.
He told news.com.au Monday's conditions were "the perfect storm" for the 20 per cent of Melburnians who are allergic to pollen. He said such conditions are very rare.
"This is just the fourth major episode of this type in 30 years in Melbourne. It's been recorded elsewhere in the world but Melbourne is prone because of high pollen counts and prevailing northerly winds."
He said a city like Sydney is saved because the winds are typically travelling east-to-west and enter from the ocean. He said the amount of pollen in the air on Monday was much higher than usual.
"The amount that you can get at the front of that storm is a half tonne of pollen per hectare that's dragged down at the front of the storm."
Dr Weiner said the thunderstorm provides an element that makes a high pollen count particularly dangerous.
"Pollen granules don't go into the lungs because they're too big," he said. "But with moisture (from a thunderstorm) they rupture into up to 700 tiny particles. They go straight into the lungs."
He said the symptoms are the same as typical asthma but "it's a dramatic event for people who haven't had asthma before because it occurs so suddenly."