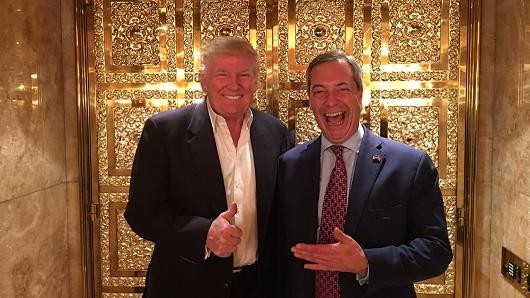 The British UKIP leader Nigel Farage is not known to mince his words, and embarrass allies. But when Farage became one of the first people US President-Elect Donald Trump met, after his election victory, it left a fair few British politicians red-faced.
While UK Prime Minister Theresa May is not expected to meet Trump until early next year, Farage was already stepping over the threshold at the Trump home at Trump Tower in New York.
Farage recently suggested that he could act as a go-between as the UK comes to terms with the Trump presidency, although Foreign Secretary Boris Johnson has already told everyone to stop the "whinge-o-rama" regarding Trump's win.
May was a vocal critic of Trump as he campaigned for the top post, and some believe that it could hurt US-UK relations.
Farage later tweeted a photograph of himself with Trump standing in front of a pair of golden doors and smiling, the president-elect giving the camera a thumbs-up.
"It was a great honor to spend time with @realDonaldTrump," Farage tweeted.
"He was relaxed and full of good ideas. I'm confident he will be a good President."
Trump's election campaign manager Kellyanne Conway said: "I think they enjoy each other's company, and they actually had a chance to talk about freedom and winning and what this all means for the world."
"However tough, even vicious the campaign may have been, he had nice things to say about the way [Barack] Obama and Hillary [Clinton] had treated him," Farage wrote in a commentary piece for the Daily Telegraph.
The diplomatic coup by Farage gives the UKIP leader a status that is neither reflected by his electoral success nor his party's, TIME reported, adding, "Farage has failed seven times to be elected as a Member of Parliament (MP) for UKIP, and is currently a legislator in the European parliament. His party has only one MP, Douglas Carswell, who has clashed repeatedly with its fractious leadership."