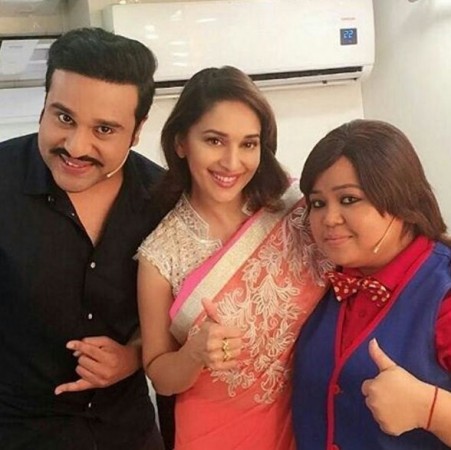 A lot has been said about the "Comedy Nights Live" replacing "Comedy Nights With Kapil" fiasco. After Krushna Abhishek and Colors CEO Raj Nayak, now comedian Bharti Singh has opened up about the controversy.
Comedian Kapil Sharma has remained mum on the entire "Comedy Nights Live" replacing "Comedy Nights With Kapil" fiasco while Krushna Abhishek has attacked the former and called him insecure. Now, comedian Bharti Singh, who is co-hosting "Comedy Nights Live", has said that Kapil is like her guru and all is well between her, Krushna and the comedian.
"I know we have not got good reviews about for new show 'Comedy Nights Live'. Fans of 'Comedy Circus' and Krushna, and the ones who love/follow my work have liked the show. But fans of Comedy Nights with Kapil, who are disappointed by the closure of the show, are not very impressed and I can understand they are hurt. So, their reaction is justified," Bharti told The Times of India.
When asked about Krushna calling Kapil insecure and accused him of running away from the show, Bharti replied, that he has not said any such things.
"Krushna and I were discussing this the previous day after reading the reports. He says he had not given any interview and was very hurt when the news came out. He was constantly worried about Kapil's reaction to all this. He finally spoke to Kapil and told him the entire thing. They both laughed and joked about it. There is no bad blood between Kapil, Krushna and me," she added.
Bharti further told the leading daily that there is no insecurity among them as "Comedy Nights Live" is also his show. She also added that they are keeping his character alive on the new show and that is why she is playing his son on the show.