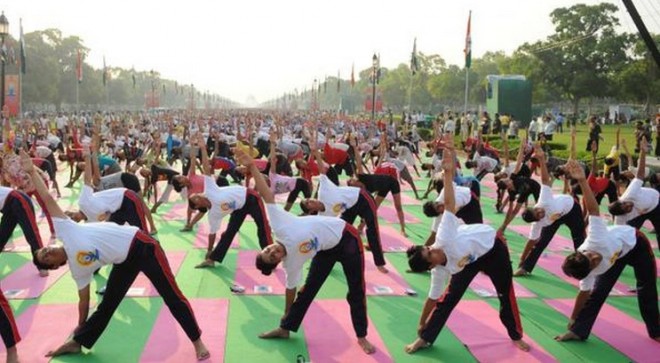 With more than 35,000 yoga enthusiasts set to gather at Delhi's Rajpath on Sunday to participate in the first International Yoga Day along with Prime Minister Narendra Modi, the Intelligence Bureau has warned that terror groups could use 'flying objects' in a possible aerial attack.
The intelligence agency issued the terror alert and warned that flying objects such as kites and balloons can be used to launch an aerial attack on the Yoga Day event, which is expected to match the scale of Republic Day celebrations.
Paying heed to the warning, the Delhi police have banned the use of drones for aerial photography and will ensure no kites or balloons will be used near Rajpath on Sunday, India Today reported.
In fact, the police will position several snipers on roof-tops around Rajpath to take down any suspicious flying object, the report said.
The report also said that anti-aircraft weapons will be readied to ensure air cover for the mega event.
Security has been tightened at Rajpath ahead of the Yoga Day event, which is touted as the biggest such Yoga event that could also go down as a world record.
About 5,000 police and security personnel will be on duty at the venue, while security officers will keep watch through 150 CCTV cameras as Prime Minister Narendra Modi leads the Yoga Day event.