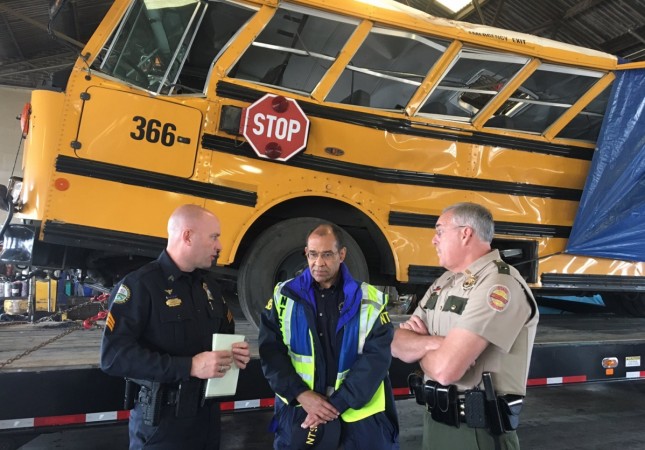 A Tennessee school bus company knew about one of its driver's history of speeding and erratic behavior behind the wheel five days before his speeding bus overturned, killing six students.
A Hamilton County Department of Education official twice warned Durham School Services — a bus company the district contracts to ferry students to and from class — about students' complaints lodged against driver Johnthony Walker.
Walker, 24, is charged with vehicular homicide and reckless endangerment for the Nov. 21 crash that killed six students from Chattanooga's Woodmore Elementary School.
Five days before the fatal wreck, the school district's transportation director, Ben Coulter, spoke with Durham School Services to tell the company about Walker's habit of speeding, according to records obtained by the Atlanta Journal-Constitution.
Two students had filed complaints against the driver, one saying he drove so quickly it "feels like the bus is going to flip over".
Earlier in a negligence lawsuit filed Tuesday against the driver and his employer, family members of a nine-year-old Woodmore Elementary student claimed he was permanently disfigured in last week's school bus crash.
It is the second such suit to be filed in relation to the Nov. 21 crash that killed six children and wounded several more, according to the Times Free Press.
The filing coincided with Walker's first appearance in Hamilton County General Sessions Court, which attorneys agreed to delay to Dec. 15. At that time, Judge Lila Statom will likely hear the state's initial case against Walker and decide whether the evidence merits a trip to the grand jury. Walker, 24, faces charges of vehicular homicide, reckless endangerment, and reckless driving.
According to the New York Daily News, earlier this month [November], a school official rode the bus with students because Walker had complained the kids were misbehaving. The report noted the driver's short tempter, explaining that Walker became irritable when the students complained about the bus's heating system.
"The driver was now visibly upset and continued on by saying that he had another job and driving this bus was just a part-time job for him," the staffer wrote of his ride-along. "He then stated, 'Or I can just leave the student on the bus and I will get off the bus and leave the school.'"
The report continued: "Driver stated that he did not care about the students and proceeded to tell the students he did not care about them."