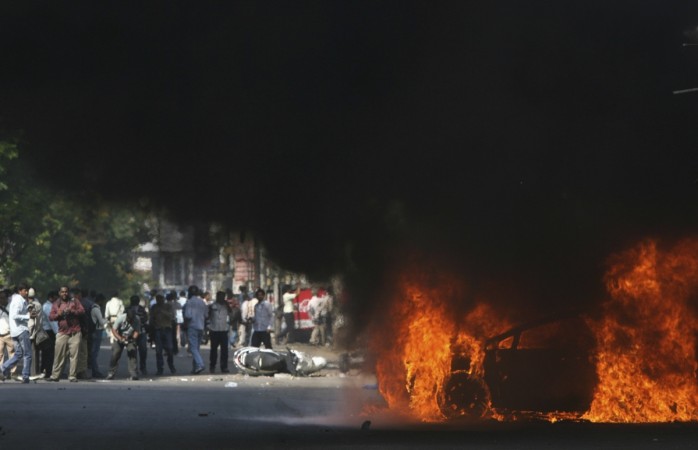 Update 5.28 p.m IST: The Bangalore police on Wednesday said that an FIR against those who brutally assaulted and stripped naked a 21-year-old Tanzanian woman on Sunday night has been registered. They have also arrested four people.
Original Story: A 21-year-old Tanzanian woman was allegedly beaten, stripped and paraded naked by a mob in the Hesaraghatta area in Bangalore on Sunday. The car she was travelling in was set on fire and her companions were also thrashed.
According to several reports, the incident took place after a charged up mob thrashed an African driver who was involved in a hit-and-run accident earlier in the same area.
The woman, who is a BBA student at Acharya College, claimed that the local police did not come to her rescue when the mob was thrashing her and four of her friends. "She's Tanzanian, the man who caused the accident comes from Sudan, they didn't even know each other," Bosco Kaweesi, legal adviser, All African Students Union, told Deccan Chronicle.
The victim also alleged that the police refused to register her complaint saying that she must first bring the driver who killed the victim in the earlier road accident.
Kaweesi said that the driver, identified as Micah S Pundugu, of the car that had an accident earlier was beaten by the mob. The victim (Tanzanian woman), along with four of her friends, was passing by the area 30 minutes later when the mob stopped their car and dragged them out.
The woman and her friends were forced out of the car and then the car was set ablaze. Reportedly, the mob then stripped the woman, and when someone from the crowd offered her a T-Shirt to save her modesty, that man too was beaten up. Later, with her torn clothes, the victim tried to enter a BMTC bus, but the passengers in the bus pushed her back down on to the road, said Kaweesi.
Kaweesi added further that the "Tanzanian Embassy on Monday sought a detailed report on the incident from student leaders to pursue the issue diplomatically."
Tanzanian student assault case: Bengaluru Police file FIR against unknown persons

— ANI (@ANI_news) February 3, 2016