Fans of kpop star Choi Siwon were heartbroken when he enlisted in the military in November 2015. The Super Junior member's absence at music concerts was almost palpable. However, Siwon recently stepped out of his military garb and showed up at some of Seoul's subway stations. Of course, many couldn't recognise him as he was dressed as Seoul police's mascot.
On Tuesday, 2 February, Seoul Police released a slew of photos and a video capturing Siwon's latest adventure. In the photos, the singer is seen wearing a life size mascot head. According to Soompi, Siwon acted as a bodyguard for many of the women commuters and the website also stated that the singer was seen at Line 4, Dongjak station and Ichon station.
The "She was Pretty" star's recent outing was aimed at raising awareness about the safety of commuters. In the pictures, Siwon is seen escorting a woman on the escalator and on the platform as well.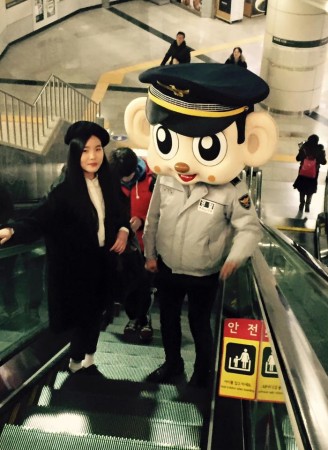 The "Who Am I" singer's Good Samaritan gesture was recognised by the law enforcement officials. The video released by Seoul police captures the applause that Siwon received. The female commuter, who was protected by Siwon, looked thrilled when he took off his mascot head.
The actor was also part of H&M's recent Chinese New Year campaign with model Liu Wen. Siwon spoke about his fashion choices and revealed his longing for Korean style pancakes and rib stew. "Nothing beats a feast of traditional Korean food prepared by my family," reported Malaymail Online.
Siwon, 29, began his mandatory military training in November 2015. He will be serving as a conscripted police officer until August 2017.
Watch the video here: