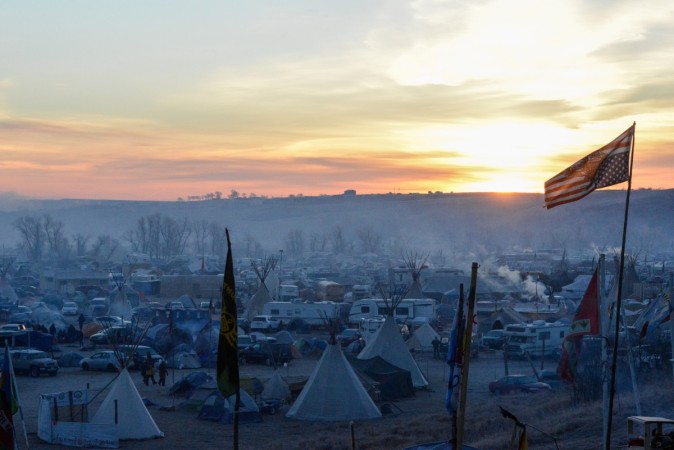 Dakota Access Pipeline protesters vowed Saturday to remain in their camp after the Army Corps of Engineers told them to leave the federal land they've occupied.
Activists protesting the continued construction of the pipeline were told to shut down one of their camps by Dec. 5 in a letter sent to the Standing Rock Sioux Tribe's leader by the Army Corps, NBC News reported.
But tribal leader Dave Archambault and other protest organizers made it clear that they planned to stay in the Oceti Sakowin camp — one of three camps near the construction site — which would have been shut down by the encampment.
"We are wardens of this land. This is our land, and they can't remove us," protester Isaac Weston, an Oglala Sioux member from South Dakota, told The Associated Press on Saturday. "We have every right to be here to protect our land and to protect our water."
Protesters said the request would only escalate tensions.
Citing increased violence between protesters and law enforcement and the increasingly harsh winter conditions, the Army Corps said it decided to close its land to the protesters who have been there since early April.
Col. John Henderson, the Army Corps' district commander, asked Archambault in a letter to tell members of his tribe, along with supporters there, to move from the property north of the Cannonball River.
Henderson said the decision was made to protect the public from violent confrontations between law enforcement and protesters, who call themselves "water protectors," as well as the "harsh North Dakota winter conditions."
Dallas Goldtooth, a protest organizer with the Indigenous Environmental Network, said it is "an atrocious example that colonization has not ended for us here as indigenous people," and that the government's request will escalate already rocky tensions.
President Barack Obama raised the possibility of rerouting the pipeline in that area earlier this month, something Kelcy Warren, CEO of Texas-based pipeline developer Energy Transfer Partners, told The Associated Press is not an option from the company's standpoint. Obama said his administration is monitoring the "challenging situation" but would "let it play out for several more weeks."