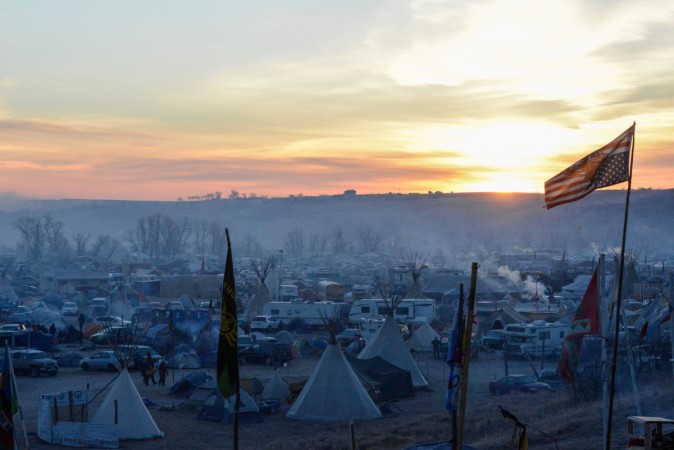 More than 2,000 U.S. military veterans plan to form a human shield to protect protesters of a pipeline project near a Native American reservation in North Dakota, organizers said, just ahead of a federal deadline for activists to leave the camp they have been occupying.
It comes as North Dakota law enforcement backed away from a previous plan to cut off supplies to the camp - an idea quickly abandoned after an outcry and with law enforcement's treatment of Dakota Access Pipeline protesters increasingly under the microscope.
The protesters have spent months rallying against plans to route the $3.8 billion Dakota Access Pipeline beneath a lake near the Standing Rock Sioux reservation, saying it poses a threat to water resources and sacred Native American sites.
Protesters include various Native American tribes as well as environmentalists and even actors including Shailene Woodley.
Mathew Phlips writes in Bloomberg that while to the protesters, stopping the pipeline is an assertion of American Indian rights and a means of ensuring that an oil spill never threatens aquifers.
"There are also economic and environmental stakes that reach beyond Standing Rock. Without the Dakota Access Pipeline, North Dakota's abundant but hard-to-reach oil resources likely won't be fully developed, potentially leaving millions of barrels in the ground.
"With oil prices below $50 a barrel, the lack of cheap transport has crimped Bakken oilfield production, raising questions about the viability of North Dakota's oil industry. Production in the state has declined 20 percent over the past two years. That's almost double the drop in Texas and Oklahoma, which have much easier access to pipelines and can get their oil to refiners for less money.
"The $3.8 billion Dakota Access is supposed to fix that problem. It will be North Dakota's first oil superhighway, capable of moving about half a million barrels a day out of the Bakken and into southern Illinois, home to a handful of refineries. From there, the project will link to existing pipes that connect to the oil storage hub in Cushing, Okla., and to the Gulf Coast, home to the largest refinery system in North America.
Estimates vary, but the transport costs of sending oil through the Dakota Access will be below $10 a barrel, compared with as much as $25 without it, according to Lynn Helms, director of the North Dakota Department of Mineral Resources. That's "the difference between survival and shutdown for a lot of North Dakota producers," Philip Verleger, an energy consultant and former director of the office of energy policy at the U.S. Department of the Treasury, told Bloomberg.