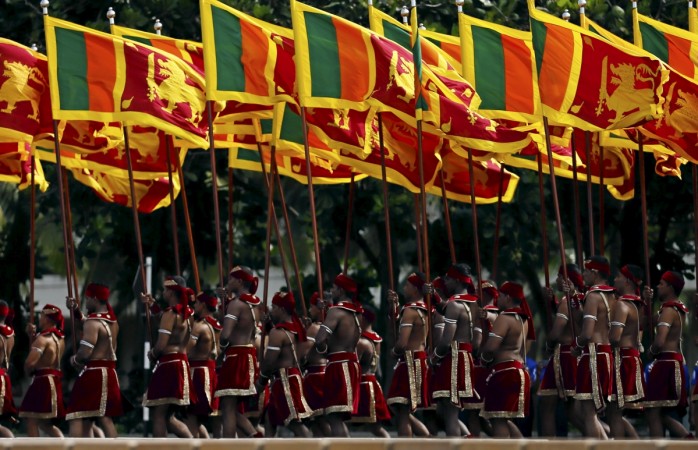 Sri Lanka's Independence Day is celebrated on 4 February every year and 2016 marks its 68th anniversary. The country got its political independence from British rule in 1948 and the day is observed as a national holiday in Sri Lanka.
The main celebration of the day takes place at the Galle Face Green in Colombo, where the country's President Maithripala Sirisena will hoist the national flag and deliver a speech at 9 am, along with the Independence Day parade. People will also pay tribute to the matryrs of Sri Lanka by observing two minutes of silence. The ceremony will also be attended by Prime Minister Ranil Wickremasinghe and other politicians.
The theme for this year's celebration is "Ekama Deyak, Maha Balayak" (One Nation, Great Power) and cultural programmes will begin at 7 pm at the Galle Face Green under the theme "Nidahase Hada Gasma" (Pulse of Freedom).
Where to watch Sri Lanka Independence day live online?
The celebrations will be live streamed on YouTube by Independent Television Network Sri Lanka. Watch it below from 9 am on Thursday.
Check out some quotes, patriotic messages, wishes, picture greetings to be shared on Sri Lanka's Independence Day here:
My country has been influenced by the core Buddhist values of non-violence, loving kindness, compassion, equanimity and mindfulness. With this sense of direction, our Government has committed itself "Towards a new Sri Lanka", guided by a vision of peace, where every Sri Lankan citizen may live with dignityand self-respect, in freedom and without fear, free of want, and where every child may enjoy childhood and grow up with hope and expectation — Mahinda Rajapaksa, Former President of Sri Lanka
This Nation will remain the land of the free as long as it is the home of the braves. Happy Sri Lanka Independence Day
One should not be proud of being a citizen of Sri Lanka just on Independence day.

The feeling of being a Sri Lankan should be in our mind always.

Wishing you the warmest wishes on this Independence Day.
Sri Lanka is a country that's gifted with many resources that could be utilised in the fashion sector...traditional crafts of Sri Lanka is another area that needs to be revived and has potential of being linked with contemporary fashion. — Charini Suriyage, fashion designer
Let every patriot be honoured,

Don't let politics get in the way.

Without them, freedom would have died,

What they did, we can't repay.

Happy Sri Lanka Independence Day
Always keep the spirit of patriotism glowing within you.

68th Sri Lanka Independence Day wishes to you and your family
Sri Lanka's problems were caused by too much democracy. — John Richardson, American academic
Freedom in the mind,

Faith in the words..

Pride in our souls..

Lets salute the nation on 68th Independence Day!