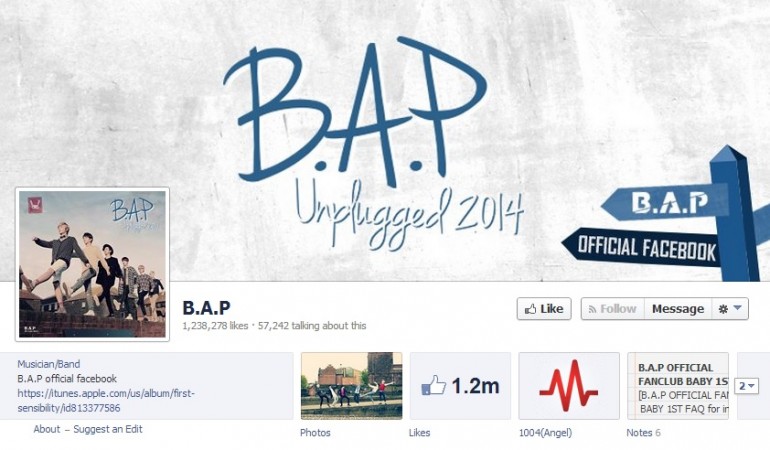 Fans of South Korea's hip-hop band Best Absolute Perfect, or B.A.P as they are popularly known as, is all set to release their fourth single album titled "B.A.P Unplugged 2014" on June 3.
A single album is a type of release with fewer tracks compared to a full-fledged album, and "B.A.P Unplugged 2014" is expected to feature just three songs.
The album's title track will be "Where Are You? What Are You Doing?" and it is expected to be a melody. The album will also feature an instrumental track, as fans had previously requested the band to include more instrumental songs in their albums, a representative of TS Entertainment, a South Korean record label and entertainment agency that manages B.A.P, told 247 Asian Media.
This will be the first instrumental track in one of B.A.P's Korean albums, reported 247 Asian Media.
Meanwhile, fans of the six-member group have been raving about their music ever since the band released a teaser of their title track "Where Are You? What Are You Doing?" The group has also received praises for trying a different genre of music than what made them famous.
"I know B.A.P is a group known for their hard hip-hop concepts!! But no doubt this is going to be so adorable and I feel like it's going to be a song full of ease and I know they're all going to look so good," one fan wrote on YouTube.
"OMG!! They're back!! B.AP is coming back!! I don't care that they're trying a new style of music, because any concept they put out usually turns out to be epic. B.A.P FIGHTING!!" yet another fan added.
Interestingly, some music lovers feel that BAP's "Where Are You? What Are You Doing?" is similar to British boyband One Direction's One Thing, as a shot in the K-Pop group's latest song features them on a double decker bus.
But B.A.P loyalists were quick to come to the defence of their favourite band, and a few of them have taken offense at comments stating that B.A.P is South Korea's One Direction.
Check out some of the tweets below.
gTfo JUST BC THEYRE FILMING IN THE UK WITH A DOUBLE DECKER BUS DOES NOT MEAN ONE DIRECTION #BAP_whereareyou #어디니뭐하니 pic.twitter.com/a3CVi1j2fL

— ㅎㅅ (@eyesonew) May 29, 2014
"BAP is Korean One Direction" pic.twitter.com/CjLODBYfHK — (@bangtist) May 29, 2014
"Bap is korean One Direction" Me: laughs at ur whole existence.

— nea (@alphabap) May 29, 2014